TikTok In Feed Ad: The quick way to success
In a world dominated by digital innovation and the constant search for entertainment, TikTok has made a big splash. The popular social media platform has enabled a revolutionary new way of sharing and discovering content. Millions of people around the world are captivated by its unique blend of short videos, dance challenges, fun facts and creative self-expression. But TikTok is not just a playground for creative minds and entertaining users. For businesses and brands, the platform offers a unique opportunity to reach a large and engaged audience. And one of the most powerful tools at your disposal is the TikTok In Feed Ad.
Imagine scrolling through your TikTok feed and discovering an exciting video that catches your attention. It could be an inspiring art tutorial, a funny sketch, or an impressive dance video. What many people don't know is that some of these engaging videos are actually cleverly placed ads – In Feed Ads – that appear seamlessly in your "For You" feeds.
These In Feed Ads are not just marketing, they are an art form in themselves. The challenge is to engage TikTok users in a matter of seconds, hold their attention, and encourage them to take further action. Whether it's simply clicking on the link to your company's website or liking and sharing the video. If you can master this art, you have the chance to win the hearts of an entire generation and make your brand known and successful as quickly as possible. In this post, you'll learn about the importance of In-Feed Ads on TikTok.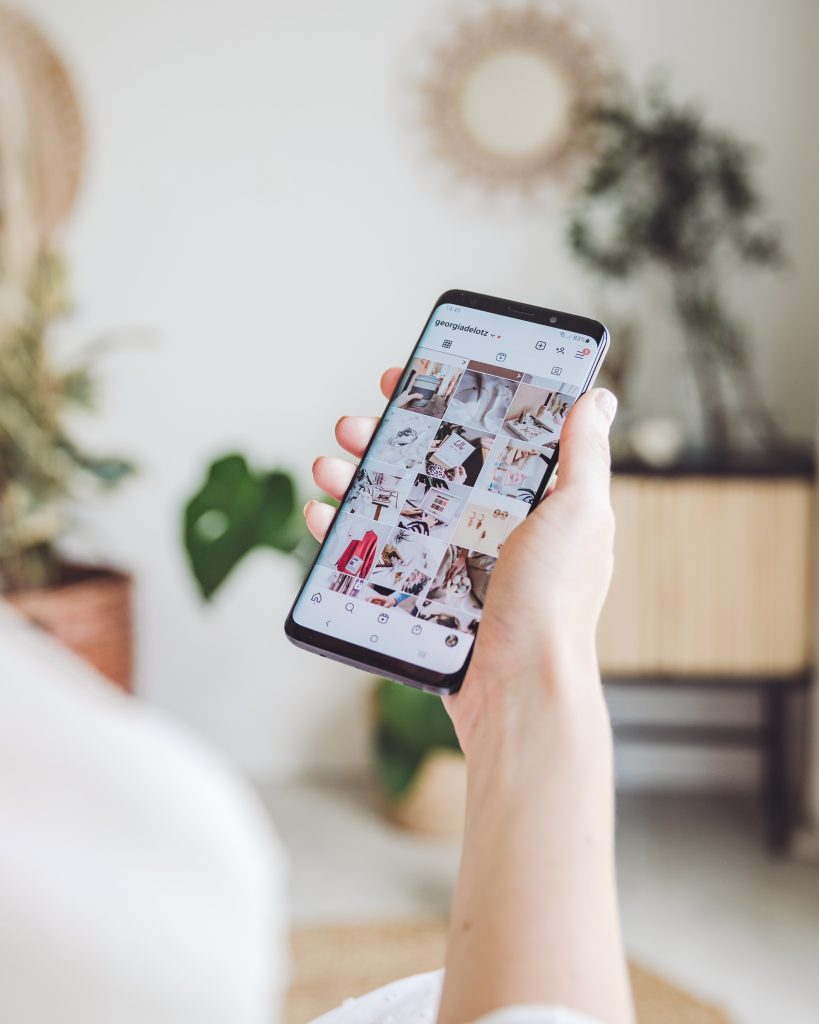 What are In Feed Ads?
TikTok In Feed Ad is an advertising option on TikTok with a post format similar to another popular social media platform, Instagram's Stories.
Video clips can be up to 60 seconds long, but a length of 9-15 seconds is recommended. The maximum file size is 500 MB and the video bitrate must be over 516 KBPS.
The cool thing is: Users can interact with In Feed Ads just like they do with posts. They can share, comment and like. Advertisers have the opportunity to create a compelling video with exciting effects, share music, highlight links, quickly download apps, and use CTAs to drive users to a specific action.
How much budget for TikTok Ads?
Another plus point is the current price-performance ratio: The bids at TikTok are far below the costs for ads on Instagram, YouTube or Facebook. The cheapest option starts at €10 per CPM. But TikTok also wants to work profitably and starts a campaign at 500€.
What is the benefit of In Feed Ads?
There are a number of benefits for choosing In Feed ads on TikTok. When users are browsing your For You page, they won't be distracted by a well-hidden ad. You can place this type of ad between organic content without it being perceived as annoying. This makes the In Feed Ad a sophisticated and attractive form of advertising that helps your brand gain more attention and engagement.
The more original and exciting the post, the more people will notice and engage with your brand. If you create this engaging moment well, your company's visibility will grow extremely quickly through the sharing opportunity and have the chance to go viral.
According to TikTok, up to 83% of users find the ads entertaining and 1/4 of viewers have purchased or researched an item after watching an in-feed ad.
Different campaign targets in In Feed Ad
With the help of a clickable call-to-action button, traffic can be directed to an external landing page, app downloads can be generated or the awareness of one's own TikTok account can be increased. It is important that these types of ads are created in portrait format to make the best use of the entire screen.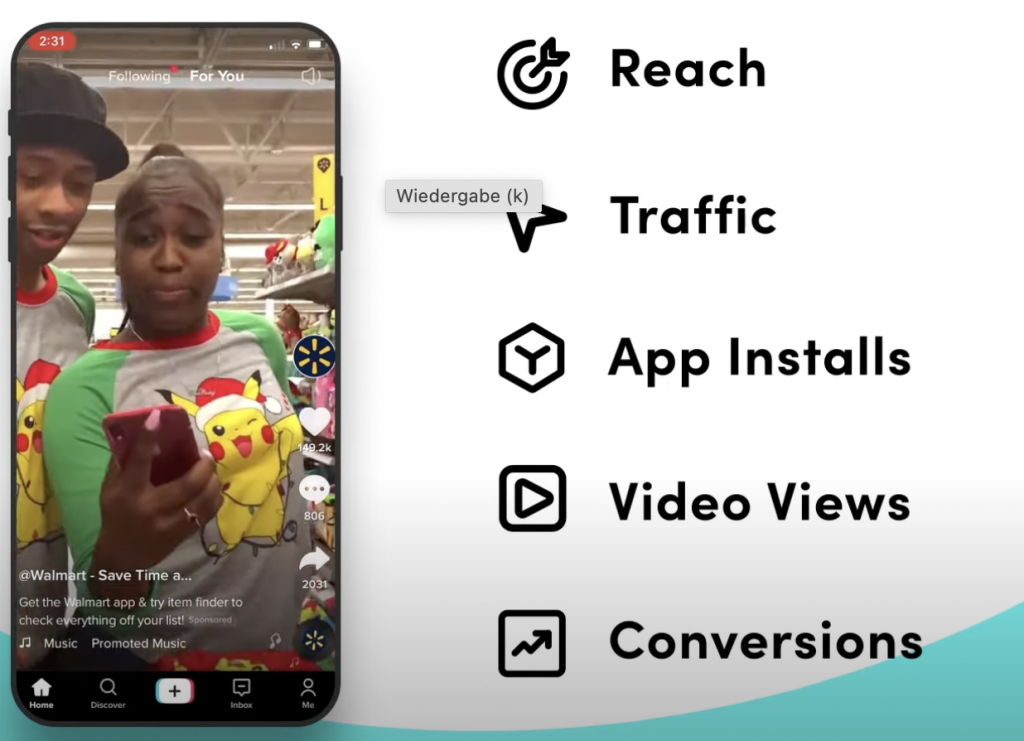 Reach → Ensures that your campaign is seen by as many users as possible.
Traffic → Optimizes traffic to your landing page or app.
App Install → Optimizes your campaign with a focus on downloading your app.
Video Views → Ensures that your ad gets as many views as possible.
Conversion → Ensures that the user performs a specific action.
Depending on the goal of your campaign, you can choose the appropriate bidding option for your business:
CPM = Cost per thousand impressions: Fees are created based on the cost per thousand impressions.
CPC = Cost-per-click: Fees are incurred for each click counted on your ad.
oCPC = Optimized Cost per Clicks: You can bid for the cost per result, but you will be charged per click.
CPV = Cost per View: Are the costs per view or predefined interactions.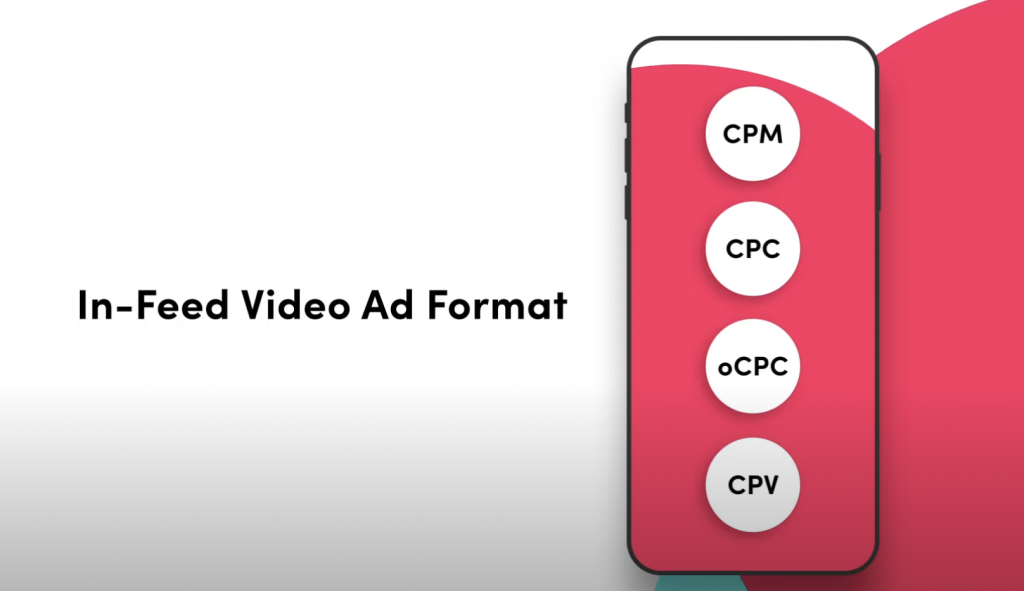 Tips to Optimize Your TikTok In Feed Ad
Choose the right sound effect
According to the survey, the sound in the videos makes a big difference to users. They find it entertaining and engaging, and unlike Facebook or Instagram, they keep the tone on.
Vertical video format
It is very important to record the video vertically. If the video is recorded horizontally, the user:inside will have to rotate the screen, which will directly lead to further swiping.
Leverage trends that match your brand
Keep up to date on viral music, audios, challenges, memes, or sound effects because it gives you clues about what your audience wants to see or finds interesting. Plus, picking up on a trend can be a great way to connect with your audience and make a connection.
Successful brand building
Create your own stickers, filters, or effects that others can use in their videos. You can hashtag your creations or add visual branding that's directly tied to your brand.
Creativity and experimentation are key. You need to find out what resonates with your target audience.
Conclusion:
Overall, TikTok In-Feed Ads offer your business a cost-effective way to quickly and effectively enter one of the most popular social media platforms and achieve your marketing goals. Through a combination of creativity, customization, and intimate knowledge of your target audience, your brand can unlock the full potential of TikTok and maximize your success on the platform. What other advertising opportunities are available on TikTok? Check out this article about TikTok Ads.