TikTok advertising: How to reach your target audience with ads!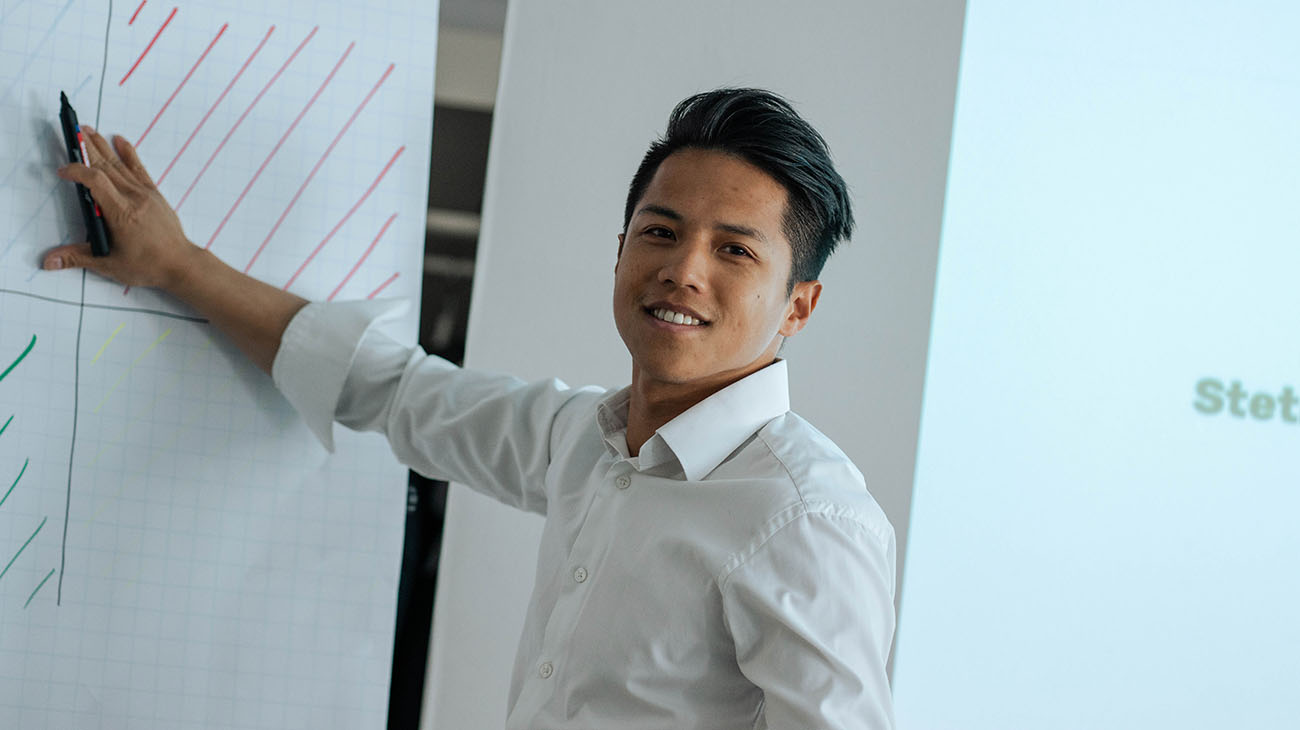 How does successful TikTok advertising work and what opportunities does it present for companies?
In recent years, TikTok has become one of the most successful social media platforms. Forecasts predict that by 2025, more than 950 million users worldwide will be active on TikTok every month.
Thus, agencies and companies are increasingly seeing the potential for influencer marketing. But what are the possibilities for advertising on TikTok and what do you have to pay attention to when advertising on TikTok? In this article you will get the most important insights about the costs of TikTok ads and the most important settings in the TikTok Ads Manager!
How can a company advertise on TikTok?
As a company you have the opportunity to develop and implement a campaign with TikTok-Creatorn. The brand as well as the company will be optimally placed with the TikTok-Creator. It is important that the creators reflect the product or service and present the features in their own creative way.
You can also place your own ads on TikTok. How to do that and what you should keep in mind for TikTok advertising, you will learn in the next sections.
TikTok has different ad formats
Brand Takeover / Top View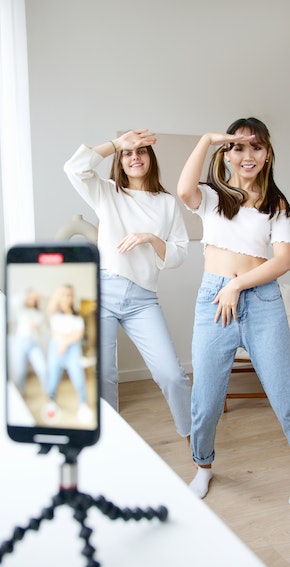 In the brand takeover, the scheduled ad appears in full-screen mode right after the user opens the app. After a few seconds, the full-screen mode disappears and the ad returns to the usual TikTok view. The TopView format works similarly – but the video can be up to 60 seconds long here.
The advantage here is that users see this campaign directly as the first thing when they open the app. This way, you can take advantage of the user's first attention and, at best, the ad will convince your potential prospects.
Branded Hashtag Challenge
You can tag TikToks with hashtags in the caption. Users can use them to find videos on a specific topic. With a branded hashtag challenge, you as a company create a challenge and provide it with suitable hashtags. Users can assign these directly – a recognition value is created. You can draw attention to the challenge via suitable creators with a wide reach and encourage people to take part. The clear advantage of this is that your company has a presence and you achieve maximum reach.
In-Feed-Video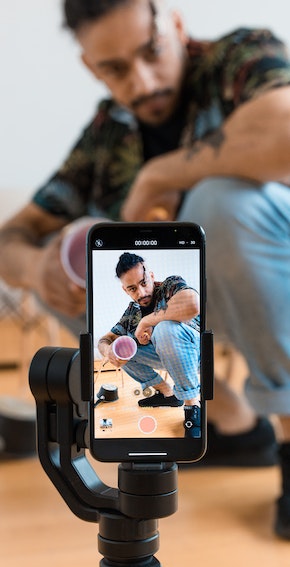 The in-feed video has the same format as a normal TikTok video and is also displayed to users on the For-You page. This ad is only recognizable as an ad by the "sponsored" marker. Your advantage with the in-feed video is that users don't consciously perceive the ad as an ad. So they engage with the content and the ad generates attention.
Branded Effect
When creating TikTok videos, you can try out effects and use them for your content. The Branded Effect gives companies the opportunity to create their own effects. This way, the target group gets to grips with the brand and the product in a playful way. Users perceive you as a brand even better.
Spark Ads
Spark Ads is not about creating your own ad. Instead, it's about marking organic posts as ads after the fact. So you can extend the reach of your top posts – or influencers – as ads after the fact.
Step by Step: This is how you can advertise on TikTok!
The TikTok Ads Manager is constantly being expanded and new features are added all the time. If you want to stay up to date, you should take a look at the tool regularly – or sign up for our newsletter and receive all the important innovations around TikTok, Instagram and Co. every week.
Tip: Take your time when creating campaigns, especially if you have no experience with them. Once the campaign is up and running, you won't be able to change certain settings.
Log in at https://ads.tiktok.com/i18n/signup – if you don't have an account yet, you'll need to create one first.
Then click on the "Campaign" tab and click on the "Create" button.
Next, select your campaign goal. You can learn more about the individual goals here. For this example, we have chosen the goal "Traffic".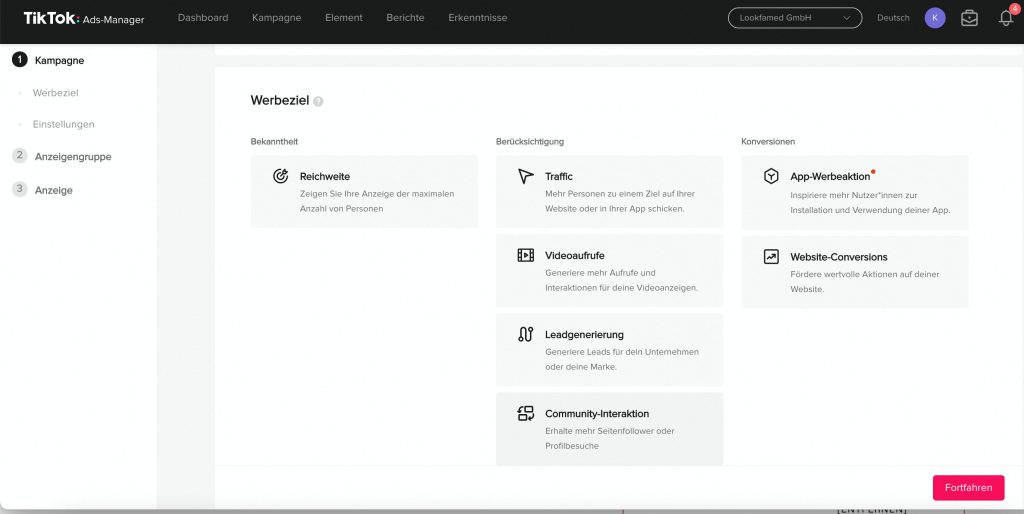 Next, enter a name for your campaign. You can also activate the "Optimize campaign budget" feature. Then TikTok will automatically distribute your campaign budget to each ad group. The minimum budget per campaign is €50, the minimum budget per ad group is €20. Depending on the level at which you set the budget, you will have to spend at least the specified budget per day.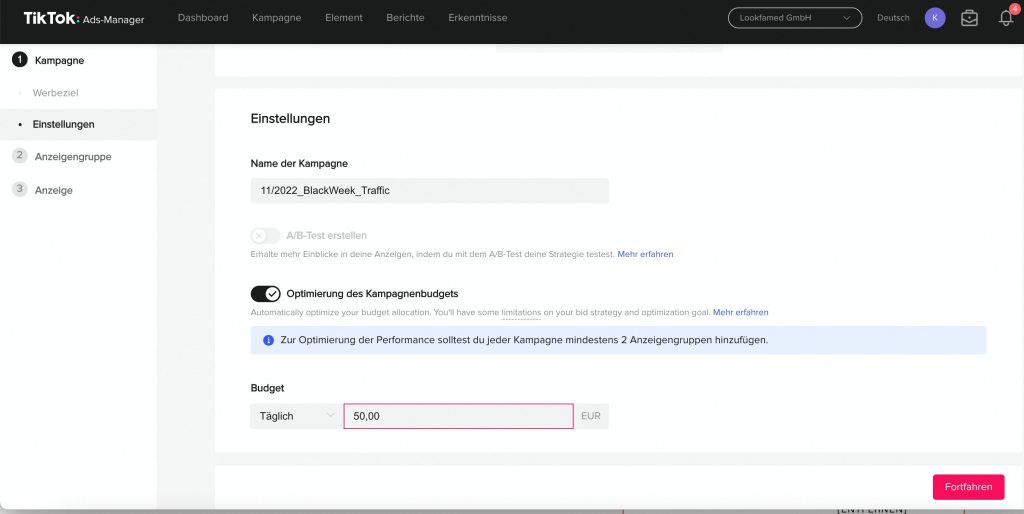 Clicking the "Continue" button will take you to the ad group planning screen.
You also have to define a name for the ad group first.
For the "Promotion type", you can choose between the variants "App" and "Website" – depending on whether you want to target app downloads or landing page visits, for example.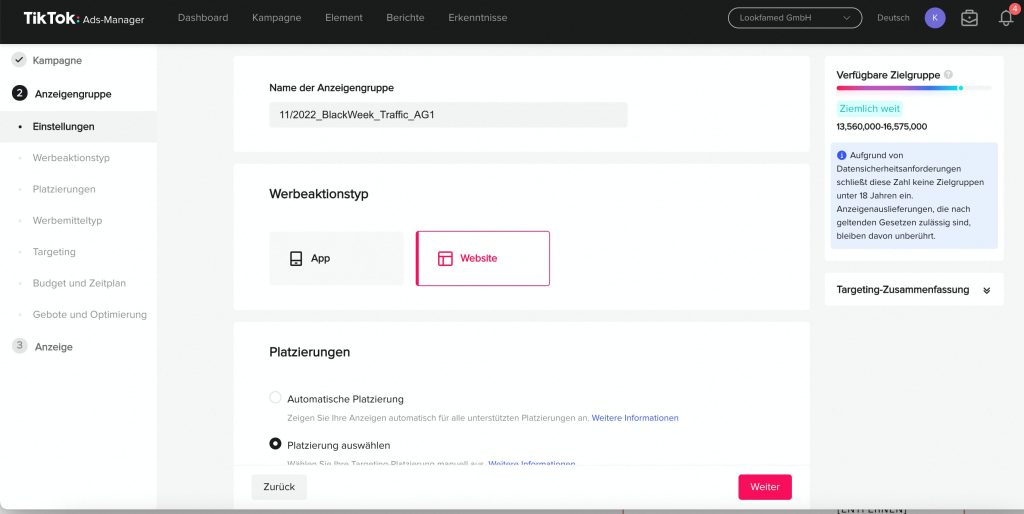 Under "Placements" you will find other platforms besides TikTok where you can place your ads. As a rule, it is best to display the ads only on TikTok. Therefore select "Choose placement" and uncheck all platforms except TikTok.Tok.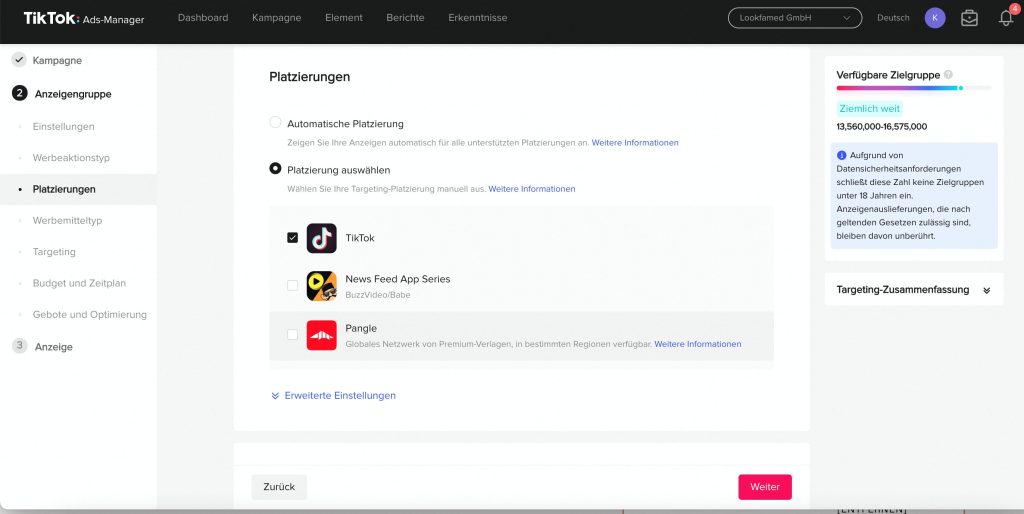 You are welcome to activate the automatic ad optimization. TikTok will then combine different assets (video / caption / CTA) and play out the variants that work best.
The targeting depends on whether you have already placed TikTok ads. Automatic targeting works well if you have already collected data from previous ads. Then the ads will be displayed only to those users who are most likely to be interested in them. For the beginning, however, custom targeting is recommended. You should keep all parameters as open as possible so that the target group is as large as possible and you can collect data for later ads.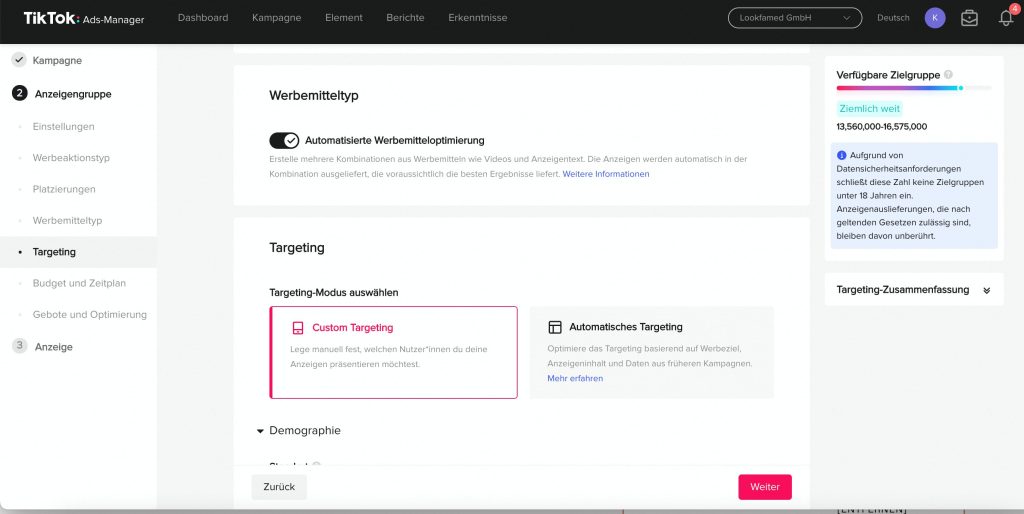 In custom targeting, you can now select some parameters that should apply to your target group. For the location, you can select the countries where your ad is relevant. For a local campaign, there is also the option to select individual states or cities – but there isn't that much choice at the city level yet. TikTok is currently working on expanding the geotargeting options.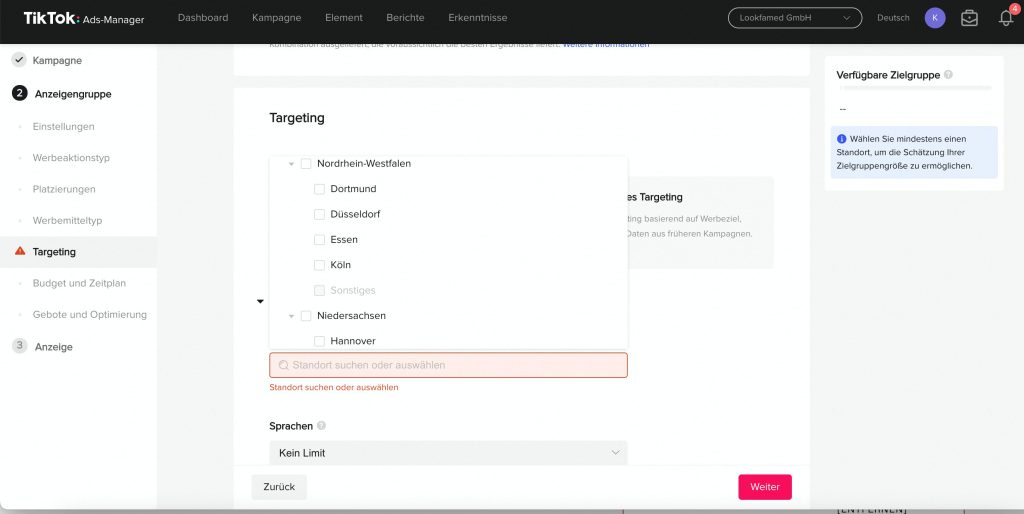 It is best to set the language to "No limit". TikTok can usually tell which languages your ad is suitable for. You don't need to set any restrictions on household income yet either. For gender and age, on the other hand, you should be guided by your product – if your product has a clear target group, you should set the parameters accordingly.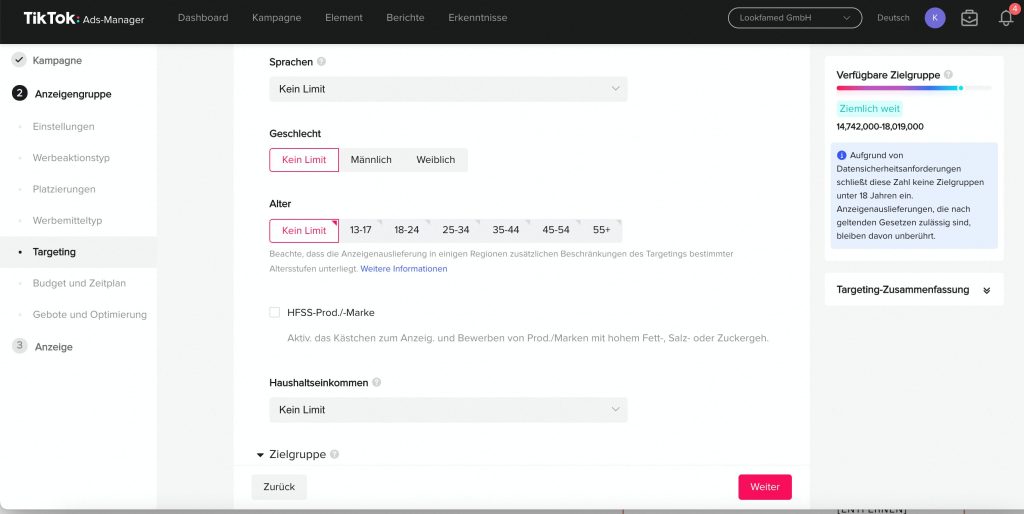 If you wish, you can include or exclude specific target groups in the next step. You can also choose a lookalike target group. Lookalike target groups include all people who have similar characteristics to a specific existing target group (e.g. website visitors, followers, etc.).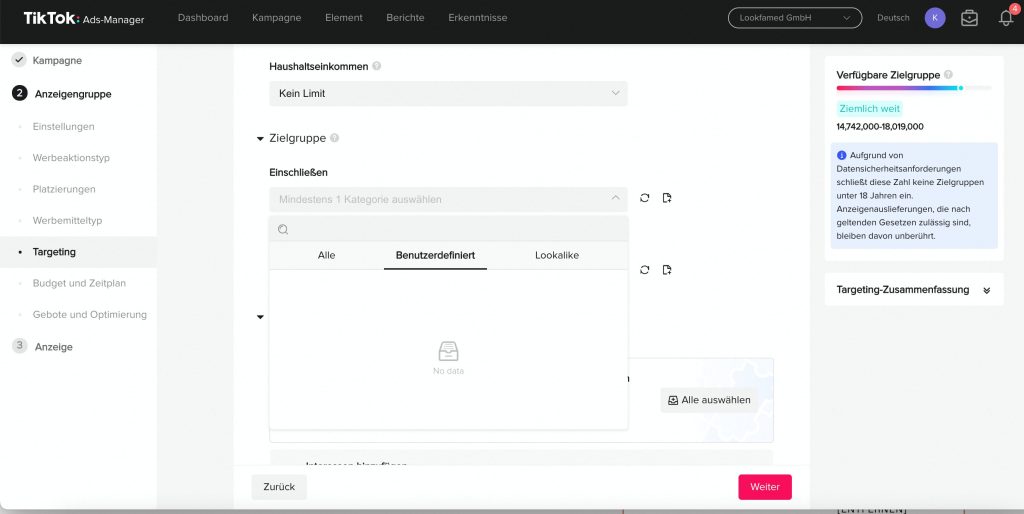 Subsequently, TikTok allows the selection of interests and the behavior of the target group. However, the interest targeting is not yet fully developed. You can therefore omit it for the beginning.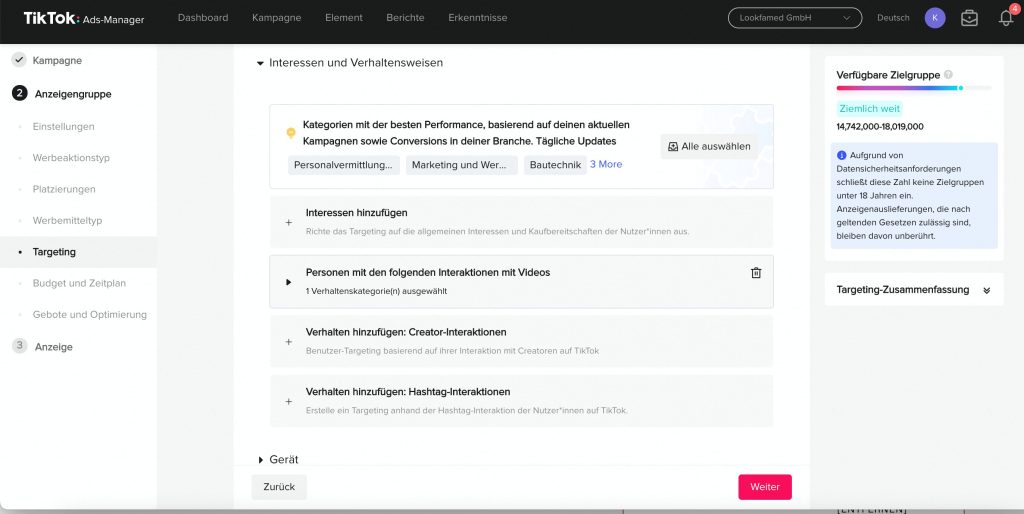 After the targeting settings, the category "Budget and schedule" follows. Here you can set your daily budget, which must be at least 20 €. You can also set the time period of the ad group and select whether the ads should be played throughout the day or only at certain times.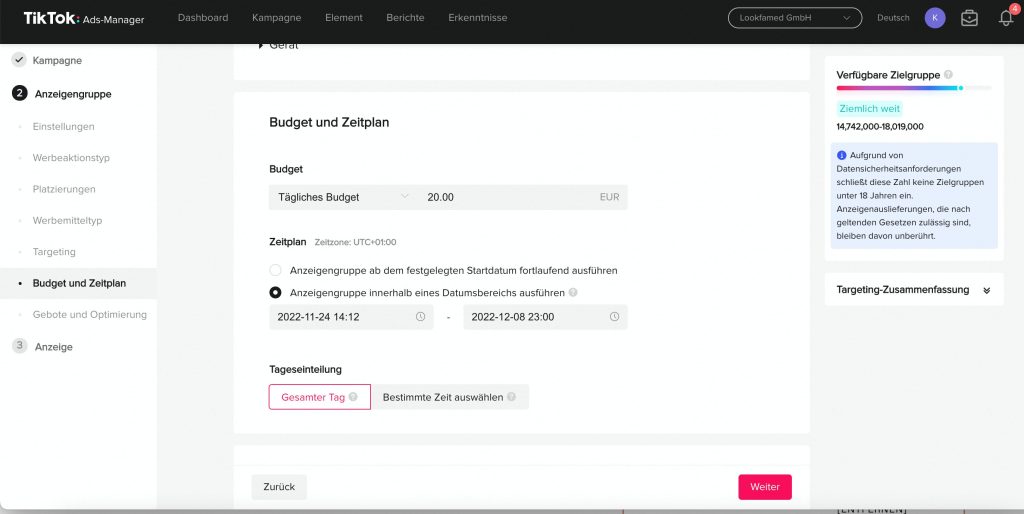 Next, specify your bidding strategy. You can choose between the "Lowest cost" and "Maximum bid" functions. You can learn more about this on the TikTok help pages. For us, the "Lowest cost" option is best.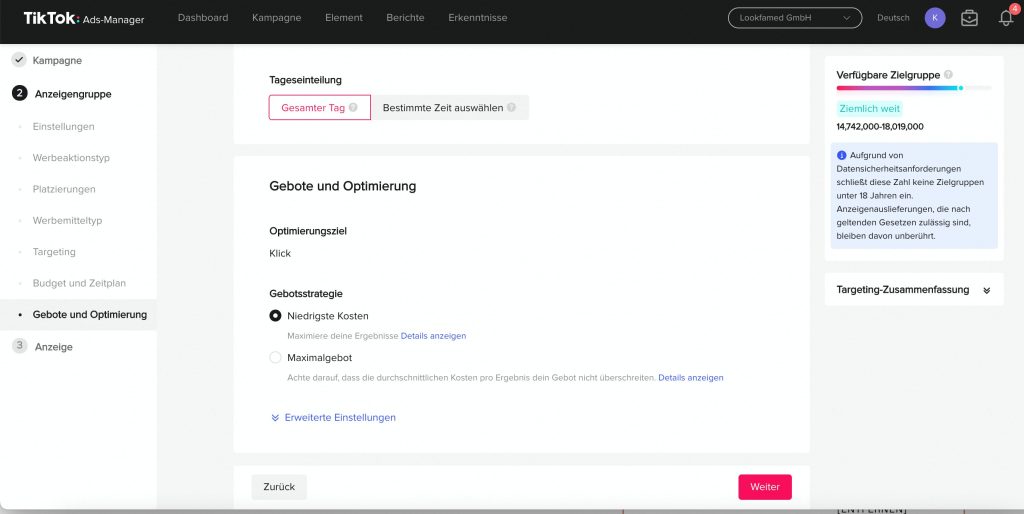 If you click on "Next", you will get to the settings for the individual display. First of all, you have to define an ad name.
Then you have the option to link a TikTok account and use it to play Spark Ads. Spark Ads are organic videos that you can extend the reach of via an ad after the fact. Instead of linking an account, you can also enter a custom identity.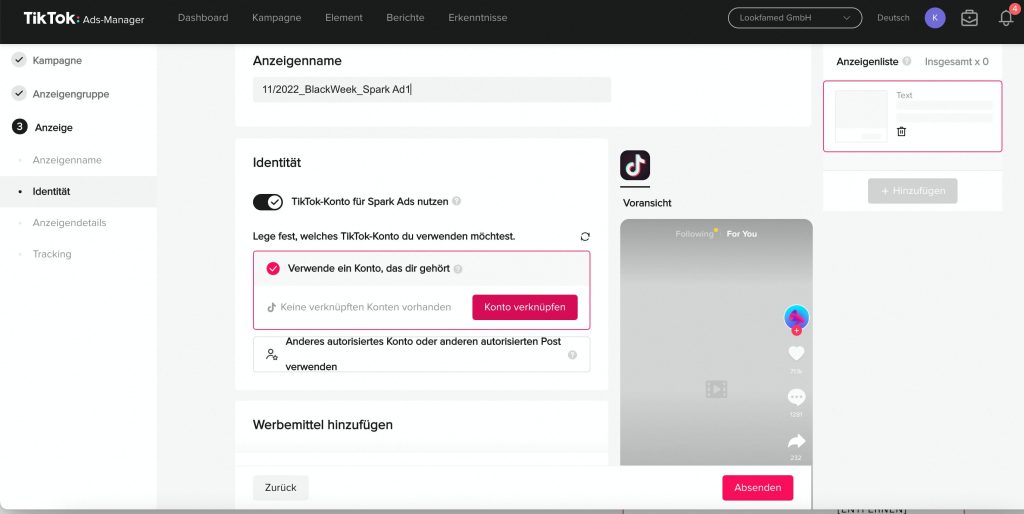 As a rule, single videos are suitable as an ad format. But you can also choose Collection Ads.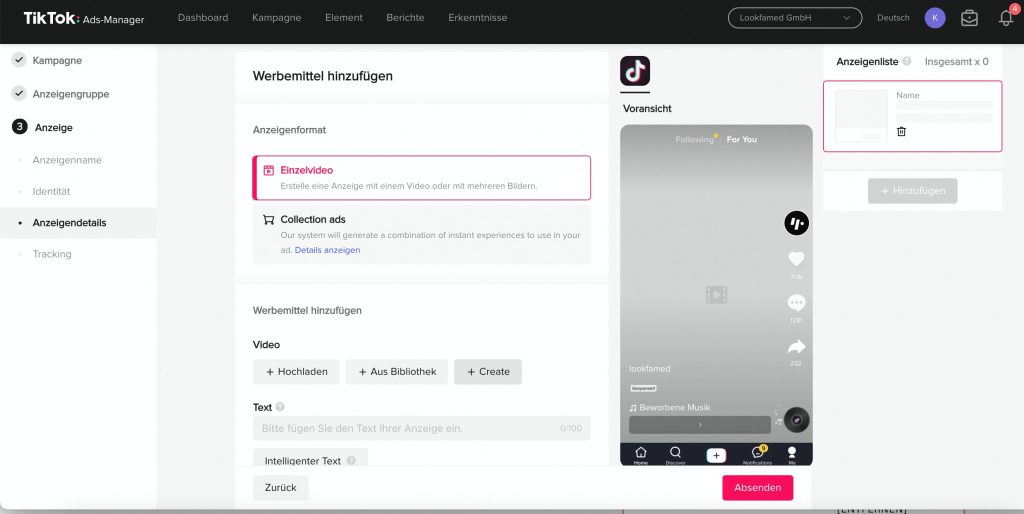 Now add a video (or create one using the "Create" button) and enter a suitable text to be displayed to users.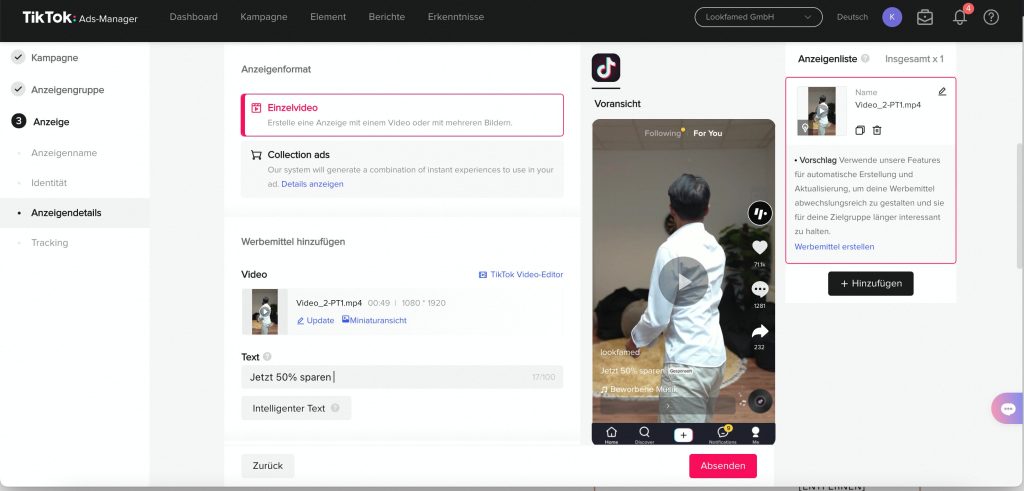 Our example ad should lead to a website. Therefore, the next thing you need to do is select a landing page and enter the corresponding URL.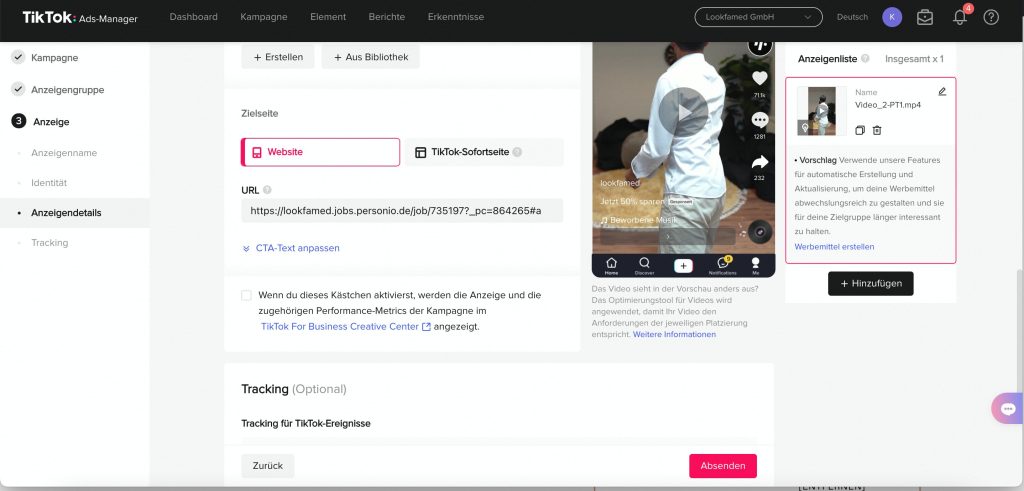 You can also adjust the CTA text accordingly.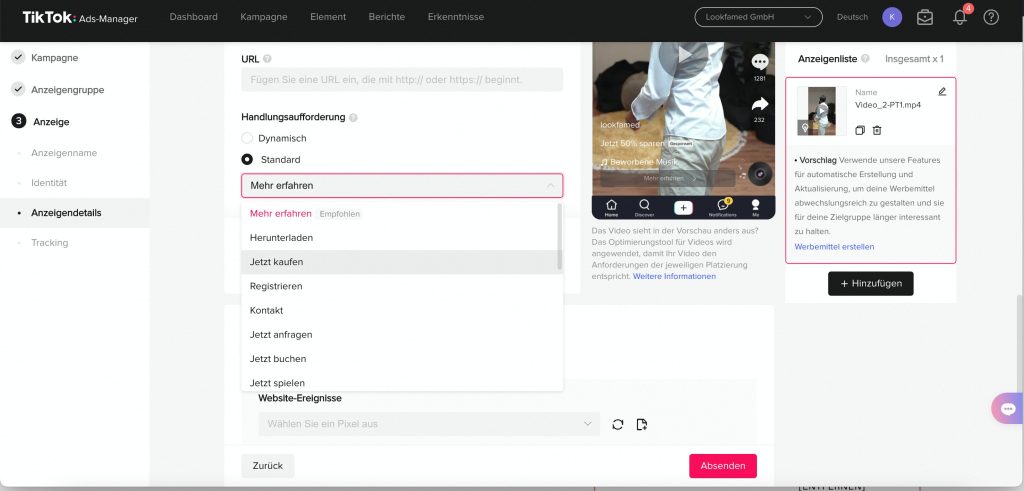 Alternatively, you can enter an instant TikTok page as the target page. This has the advantage that the page loads faster for users.

Last but not least, you can optionally set the tracking. For this you need a so-called pixel. You can read about how tracking works in the next section. Tracking for third-party providers is usually not that important.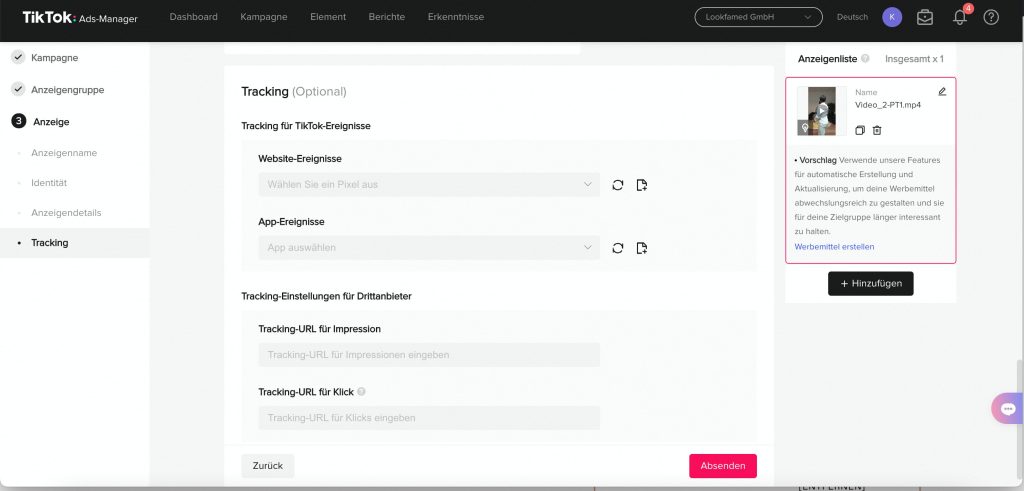 You can create another ad for the ad group by clicking the "Add" button.
That's it! When you click on "Submit", you have created your first TikTok ad.
Advertising on TikTok – this is how tracking works
You should also track your ads on TikTok. This is the only way to see how well the ads are working and to find out what you need to improve. You can customize the usual tracking of your ads when you create them. But if you want to track events – e.g. app downloads or specific events on your website – you should do it by creating a TikTok Pixel.
To do this, click Element > Events in the Ad Manager. The created pixels are then inserted into the code of your website. If you are not a programmer, it is best to contact your IT department. For example, you can track whether users add something to the shopping cart or complete an order.
What are the benefits of TikTok ads for businesses?
Placing TikTok ads and influencer marketing can have many benefits for businesses. The platform is especially ideal for B2C brands: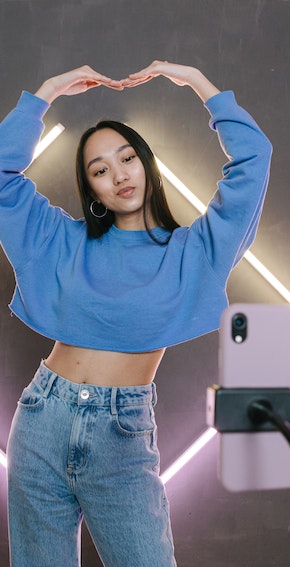 Successful platform: TikTok continues to grow as a social media platform and appeals to more and more users.
Gen Z: The young target group on TikTok offers many companies a great opportunity to strengthen their reach.
Service: When placing ads, you will receive support from qualified TikTok employees.
Branding: Another advantage of TikTok advertising is branding. Companies present themselves on TikTok, at best take part in challenges and encourage the community to follow and participate. This gives users a positive impression of the brand. Companies can position themselves as experts or as attractive employers, for example, and offer users inspiration and added value.
Diversity: On TikTok, you can use different ad formats for yourself and thus position your brand ideally.
Strong product launches: Good content (also in the form of ads) is rewarded with a higher reach on TikTok. You can use this especially for product launches. If you present new products creatively and uniquely, you can generate a high reach and attention.
Influencer Marketing: TikTok offers huge potential for influencer marketing. Companies can use a new type of influencer marketing for themselves and improve their own corporate image.
How to properly mark advertising on TikTok?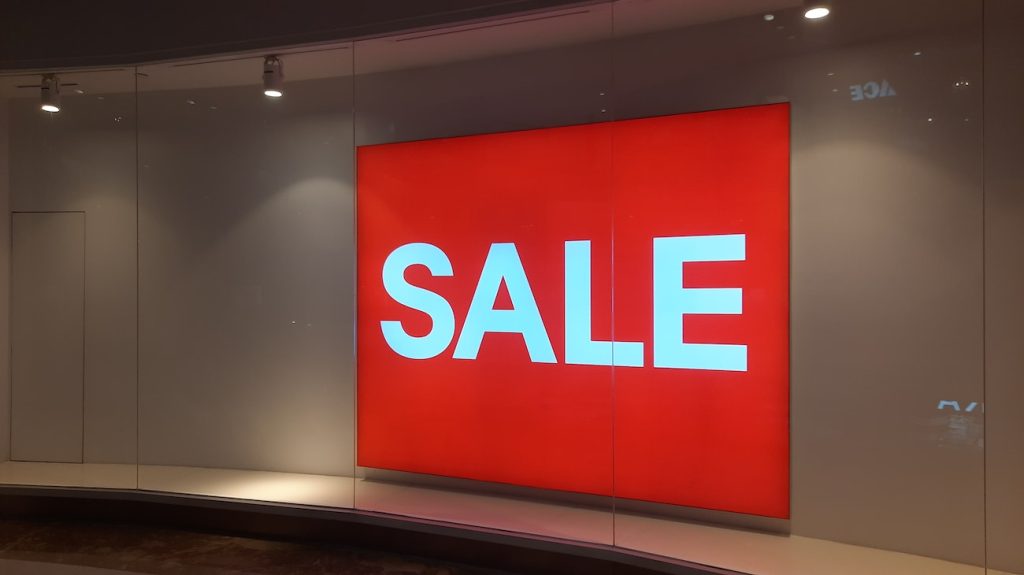 The advertising label on TikTok basically works similarly to other social media platforms. It must be clear to any consumer that the content is advertising. Here, the terms "advertisement" or "ad" must be clearly seen and understood. For purchased ads, TikTok automatically marks the ads as advertisements. If you want to play it safe, you can still include the term in the caption. For an influencer campaign, it's best to include the term in the caption. In addition, you can indicate the label clearly visible in the video and as a hashtag.
How much does an ad cost on TikTok?
At TikTok, you must provide a minimum budget if you want to place an ad. Daily budget and total budget for campaigns must be greater than 50 €. For ad groups, the budget is more than 20 € per day. The total budget is calculated by multiplying the number of days by 20, for example:
10 (days for which the ad group is planned) x 20 € (minimum daily budget) = 200 € (minimum total budget)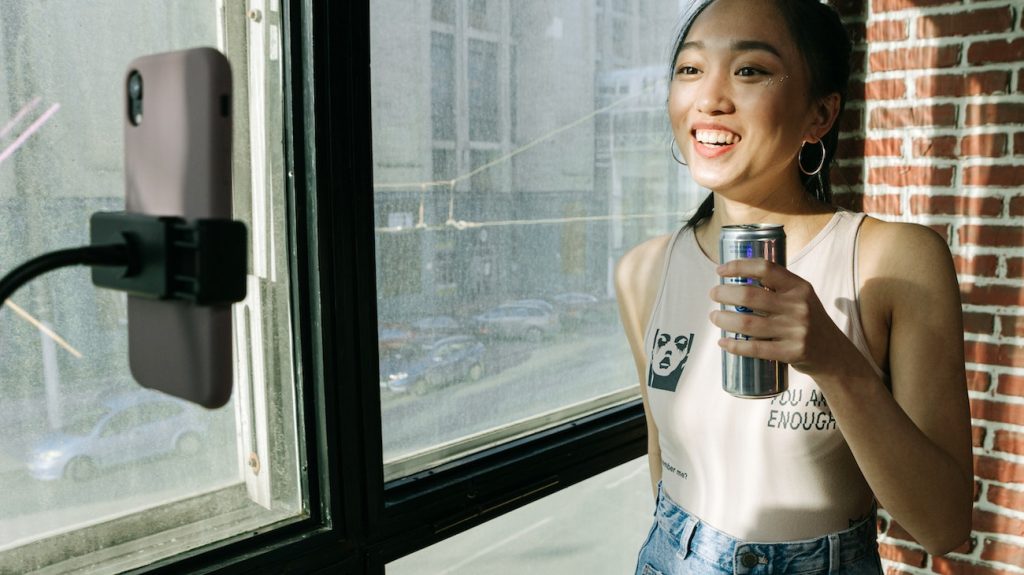 Of course, there is no upper limit to the prices for TikTok advertising – but you can also set a maximum budget. Larger companies in particular sometimes spend over €10,000 or even €100,000 on a campaign. For smaller companies, the investment in influencer campaigns can be more worthwhile.
What are the advantages of advertising on TikTok over Instagram?
A large proportion of TikTok users are between 13 and 24 years old. This allows companies to tap into a new, younger target group alongside Instagram and increase their reach among Gen Z as well. There are no limits to creativity on TikTok. For example, the TikTok creators are known for creating entertaining and very creative content in connection with effects and music and convincing their community with it. Companies can stand out from the competition with their own content or the creative content of the creators and present themselves and the brand uniquely.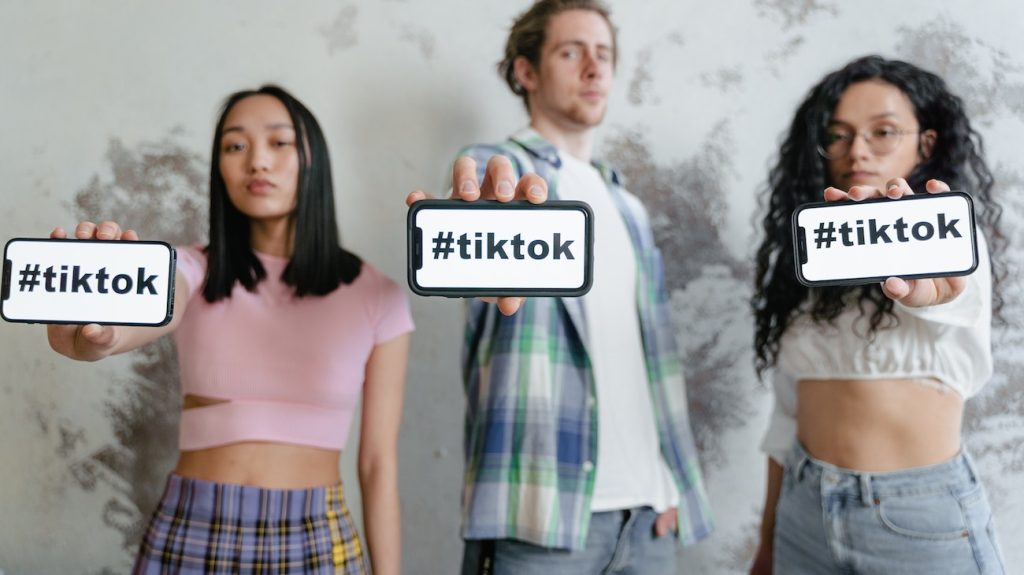 In addition to advertising, TikTok offers companies enormous potential for successful influencer marketing. There are a large number of new creators who can implement successful campaigns together with companies. The biggest advantage of TikTok is probably that every video has the chance to go viral and can thus generate a very high reach. The content is not only shown to followers, but can be played out to every user on the For You page.
Conclusion: TikTok advertising as an opportunity for companies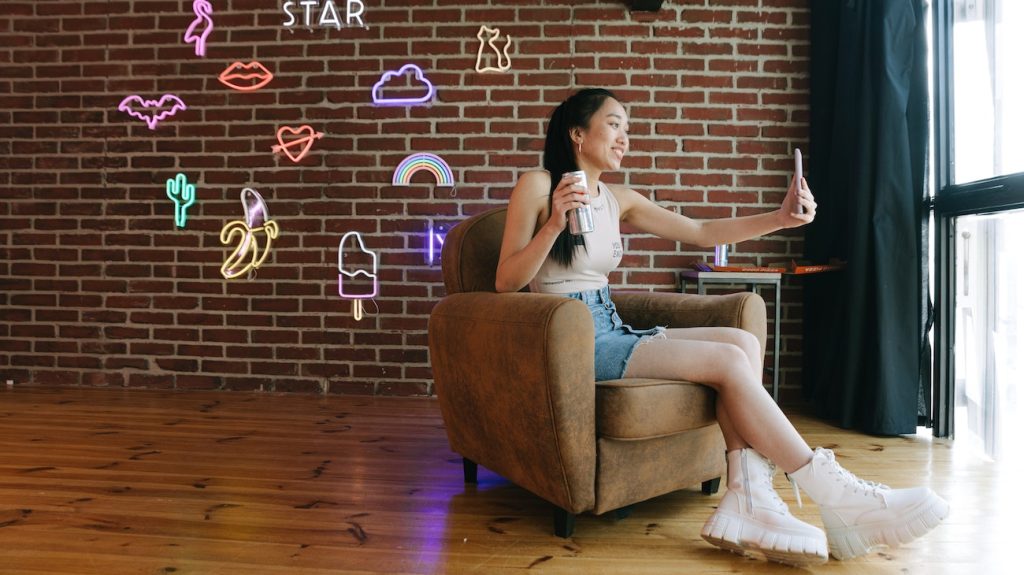 TikTok offers various options for advertising. Every company has to find out for itself which variant is the most suitable. It's important to keep your specific goals in mind and try out a few types of TikTok advertising to make the right decision. But one thing is certain: advertising on TikTok – especially in cooperation with the right influencers – holds great potential. In the future, TikTok will certainly find more exciting opportunities here to expand the Ads Manager and make it even more attractive for companies.