Virtual & Augmented Reality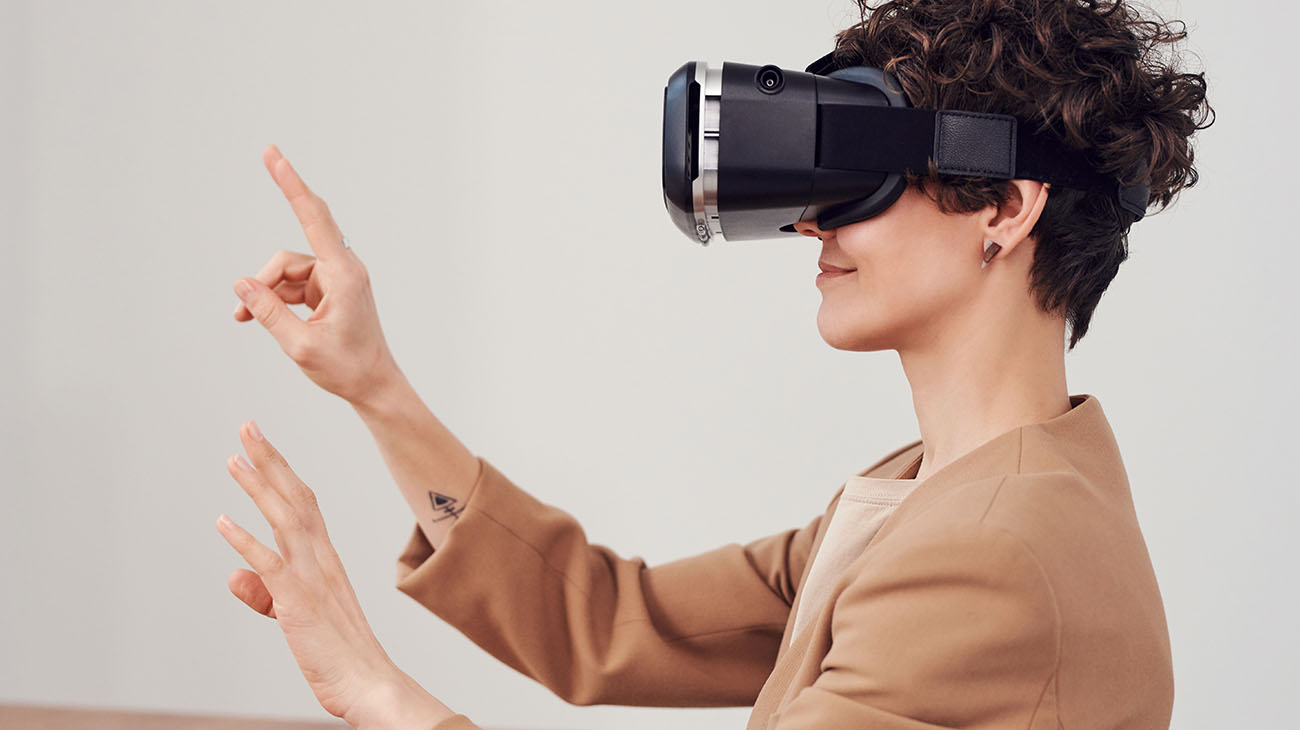 Social media marketing with a difference
For many consumers today, it's still not easy to tell the difference between virtual reality (VR) and augmented reality (AR). These technologies sound like they were invented just a few years ago, but their roots go back several years. The first VR systems were developed in the mid-1960s, and the first VR glasses were developed just a few years later. However, this technology was still a lot more rudimentary than today's and there really wasn't much fun to be had with it. In addition, there was the factor that the glasses and the associated technology were simply too big and too heavy for people to really enjoy the virtual excursion into the new VR world. While this technology was still in its infancy, people recognized the great potential that could be gained from it in the future. 20 years later, a special helmet was developed for the military (Super Cockpit) that could superimpose additional information on a fighter jet pilot's field of vision. This was the starting signal for augmented reality.

What is Virtual Reality and Augmented Reality?
Basically, the difference between virtual and augmented reality can be described with the following definition: Virtual reality blanks out the real world and users immerse themselves with their senses in a "new", virtual reality, while augmented reality supplements the real world with additional information and elements. Both technologies rely on supplementing the real world with digital content or opening up a virtual world in parallel. This means that consumers can use augmented reality to add virtual elements to the real world or, if they wish, venture beyond the real world into a virtual world. Depending on the area of application and platform, this results in different possible uses for companies and users as to how and when the respective technology can be used in a meaningful and useful way.

Virtual Reality or Augmented Reality – Which Technology is Making the Race?
Initially, it looked as if virtual reality would prevail and win the race. The idea of trading off into another world and being who you always wanted to be captured the imagination of many people. However, there were also some difficulties that came along with VR. For quite a long time, VR was simply too expensive for the mainstream and not yet mature. The graphics of the VR glasses did not quite meet the expectations of the users and did not convince a broad audience. In addition, there was the weight of the VR glasses. It was simply too heavy when most of the technology was built into the glasses. But the real problem was of a different nature. The users complained of headaches, nausea and dizziness. Obviously, VR glasses have the disadvantage of having a negative effect on the user's state of mind.
Augmentet Reality focuses more on the real world and tries to add value by extending our world. Augmentet Reality can be seen as a tool for this dimension, providing users with the information that is important to them. Basically, Augmentet Reality can project elements in a display or monitor that ensure a fusion with this dimension. Augmentet Reality with the use of AR glasses even replaces a display or monitor altogether. The rapid development of the smartphone market has given AR a big boost. Currently, there are already many apps and applications that make AR practical and useful.

Where is virtual reality and augmented reality used?
VR received media attention as early as the late 1980s and early 1990s through video game consoles. The digital consoles and the associated video games almost seemed like science fiction. With the "Oculus Rift" VR glasses introduced in 2012, the whole topic was taken to another level. Both in terms of graphics and applications, VR gained relevance. The company also presented its vision of how it envisions the future with Facebook's recently unveiled Metaverse. The Metaverse is a parallel world in which various Internet platforms are linked together. This allows users to move around the Internet without any barriers.
In AR, it was the game Pokémon GO that really got the ball rolling. Millions of users around the world were on the hunt with their smartphones to collect Pokémons in their familiar world. The topic of AR, and AR glasses in particular, are currently on everyone's lips. Two companies in particular are associated with great hope and are expected to make a major breakthrough in this field. These are Google and Apple. While the former has already presented products, the second brand is still keeping a low profile with its solutions for AR glasses. Most users currently still rely on their smartphone or tablet to use AR. For example, furniture can already be placed virtually in the user's own four walls, or various filters can be used to create gimmicks on Instagram and Snapchat. AR is also very present in gaming. There are many apps, applications and games for which AR is already an essential part of their concept. AR is already differentiated between assisted and mixed reality.

What does virtual reality and augmented reality mean for social media marketing?
In just the next few years, social media will change. They always have, and as technology evolves, the social media landscape will continue to change dramatically. We're already experiencing it. Whether it's in snaps, in video or photo filters, AR is pretty much in every platform. Influencers are already using AR elements when interacting with their followers and creating content. Digitally inserted filters and various other gimmicks make the content interesting and can also offer followers a different added value.
The further development of sensors such as the LiDAR sensor in the iPhone will lead to even more interesting applications in social media in the future. Smart glasses will integrate social media even more into our everyday lives. Advertising can be projected onto free surfaces or, conversely, removed from the field of vision by ad blockers. A fusion of social networks and the real world no longer seems as far-fetched as was initially thought. Possibly in the future, you can sit in a café and a friend can be digitally present through AR. Or you could go on a shopping spree together or take a trip together. Virtual guides can show tourists around the city, or information about the most popular sights can be displayed directly.
The fusion of AR and social media opens up new opportunities for companies and creators. AR applications are no longer played on mobile devices, but projected directly into everyday life. Increasingly, content does not have to be called up, but is played back specifically in the everyday life of users. Everyday life is enhanced by the AR dimension. Customer support will become even more user-friendly. When problems arise, experts can look over your shoulder and quickly identify where the problem is. Clothing can be tried on through AR and does not have to be ordered separately for fitting. Through AR, the products advertised by influencers and creators can be immediately viewed, tried on and tested by their followers. Information is exchanged even faster and brands and companies can move a little closer to their customers' everyday lives.