6 reasons Why User-Generated Content is important for your business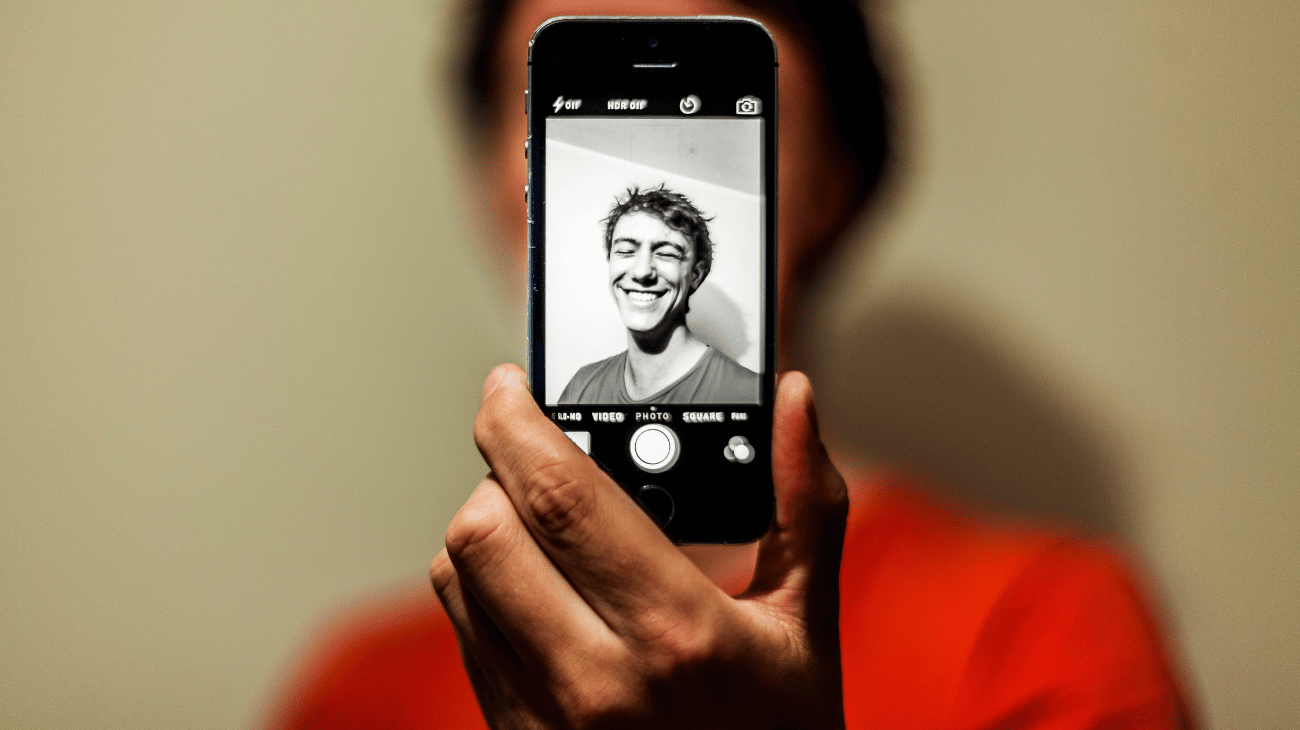 User-generated content (UGC) has become an important marketing tool in recent years. Companies and brands use UGC to get in touch with their target group and increase their brand awareness. Relevant content is thus created by the users themselves. The content created can be used in many ways, be it for paid advertising or for organic marketing. In this blog post, we'll show you why you should use UGC in your business marketing strategy.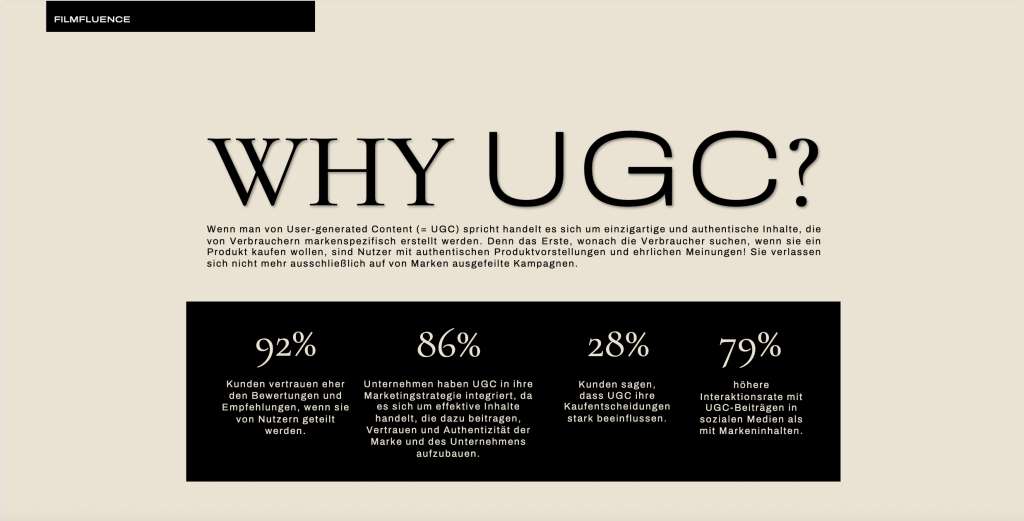 What is user-generated content?
User-generated content definition:
UGC means that content is generated by users. This is content such as images, videos, reviews, comments, blogs and social media posts. User-generated content can be created for various platforms and channels, including social media platforms such as Facebook, Instagram, Twitter and TikTok, or for promotional materials, forums, review portals and corporate websites. These forms of UGC can be used to complement marketing strategy and strengthen customer loyalty.
Why should you use UGC in marketing?
Customer loyalty is very interesting and important for every company. But what are the advantages of UGC? What possibilities are hidden behind user-generated content?
More authenticity and credibility
One of the most important reasons for using UGC is to increase the credibility of one's own brand. It has been proven that customers trust the opinions and experiences of other customers more than the advertising messages of companies. Content is created by users for users. Customers trust your brand more because they've received a social proof that your product looks the same in real life and delivers what it promises. In short, people trust a review or recommendation more than an ad. If you use this phenomenon well, it leads directly to the next point: better conversion.
Increasing conversion
UGC is an effective way to convince potential customers that your brand is trustworthy and recommendable. By providing social proof that other customers have a positive or real-life experience with the product, trust is strengthened and the face of the brand becomes authentic. This leads to an increase in the desire to buy, combined with a positive, trusting feeling towards the product. More purchases are made and the positive feeling about the purchase has a pleasing effect on customer loyalty.
Increasing customer loyalty and engagement
f the trust of customers can be increased, a higher level of identification with the product can be achieved. If the product has been tested or presented by users, customers can identify themselves quicker and more easily. If this step is successful, customer loyalty can be increased enormously.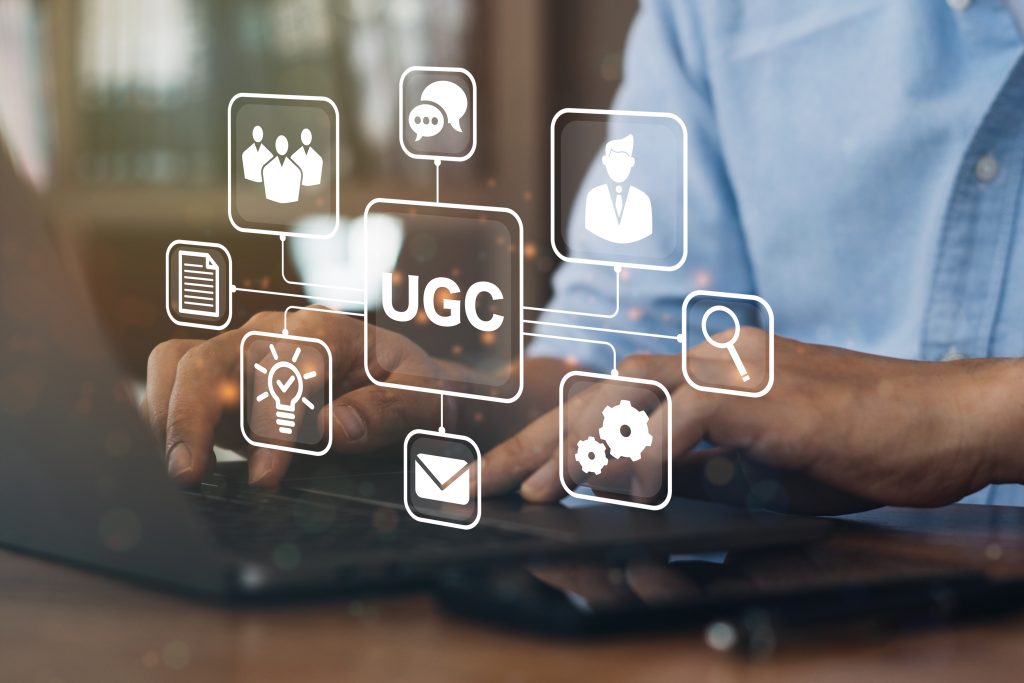 Increasing the range
By using UGC, you can also increase the reach of your brand. When users create content related to your business, they often share it with their friends and followers on social media. This gets your brand noticed by a wider audience, which leads to increased reach and awareness
Cost saving
Compared to traditional advertising campaigns, the use of user-created content can lead to significant cost savings. Your company doesn't have to spend large budgets on content creation and can rely on the creativity and passion of their customers instead. This can also help improve the return on investment (ROI) of marketing campaigns.
Increasing visibility
By using user-generated content, your business can increase its visibility in search engines. When users create content that relates to your brand or business, that content can appear in search results and increase brand visibility.
How does UCG work with social media marketing?
As you've already read, the use of user-generated content in social media is essential. There are many advantages for your company. The face of the company becomes authentic, the conversion rate increases, customer loyalty can be strengthened in the long term, reach and visibility as well as cost savings cannot be overlooked.
How Lookfamed can help your business with UGC
Our concepts integrate user generated content as follows. We select suitable creators for your products. We look for creators with a very strong content creation, who have a good eye for images, videos and posts. They can produce relevant content, they know what is trending and what is current. The desired platform is understood and they can quickly jump on trending content. The follower numbers are between 1000 – 3000 followers.
What exactly does a UGC Creator?
A Creator delivers on long-term good content for your company. Meaningful images, videos, reviews and text templates are created to match your company. You can use this relevant content for all promotional materials, websites or for your social media platforms.
Why is user-generated content good for my business?
The pain point of content creation is solved. Your employees can concentrate on the topics in which they are specialists. The high expenditure of time for laboriously created content can be reduced enormously by buying content from highly motivated, creative creators. This is not only a great added value in terms of time, but also has budgetary advantages. No high production costs are necessary, as the content can simply be created with a cell phone. So you get a lot of valuable content for a reasonable budget.
What dangers could be associated with it?
You should always keep in mind that UGC is not high-quality creations. The content is created in mobile phone quality. There is no high-end camera or professional editing team behind it. However, this is also about content that should be communicated to customers on the same level. This is another positive aspect. It is important to create a good briefing that shows the creators the necessary instructions and rules. Set the framework, but leave room for creativity. Your company buys creativity from the creators.
What is smart UGC content?
As a company, you should always ask yourself: What is useful content that I can let UGC Creator take care of? Which topics can be solved well internally and which need that certain extra bit of creativity. For example, I let internal employees work on content that should reflect the working atmosphere. While an idea that fits the product is a good tactic for user-generated content, for example a video on TikTok. So the question should always be what content is positioned on a platform, which of it is better executed internally and which should be developed by creators.
Are influencers equal to creators?
The difference between creators and influencers is easy to explain in this context. Influencers have a large reach, they have a community and also a great influence on their followers. Creators are very creative and have a strength in content creation whithout a big audience.
Conclusion:
Leveraging user-generated content is an effective marketing strategy that you should use in your business to build credibility, increase customer loyalty, and expand your reach and visibility. By using UGC, you can save costs and effectively enhance your marketing strategy. However, it is important to plan your UGC strategy carefully and make sure it is aligned with your goals and needs as a business.