Growth through Reels – Short Video Content for Success on Instagram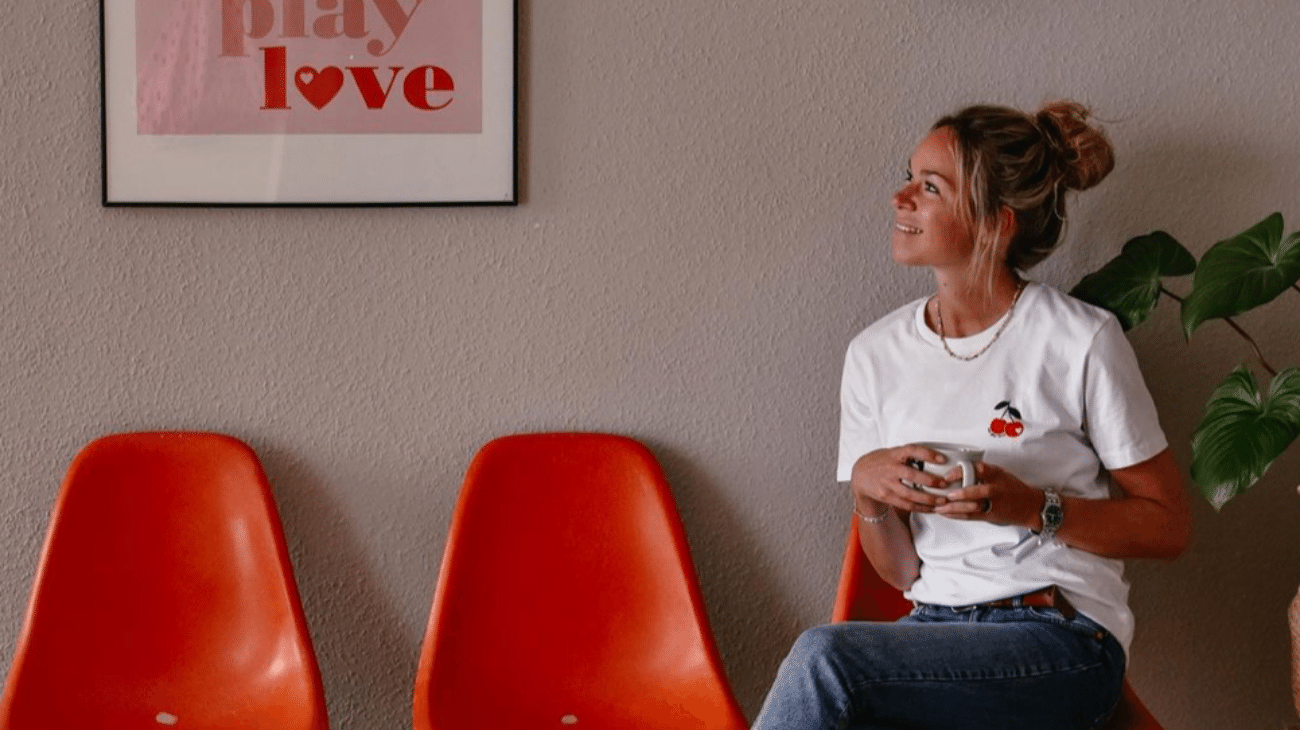 Julia, better known as creator @mrs_ermerson on Instagram, is really taking off with her short videos. What's her secret to success and what advice does she have for other accounts?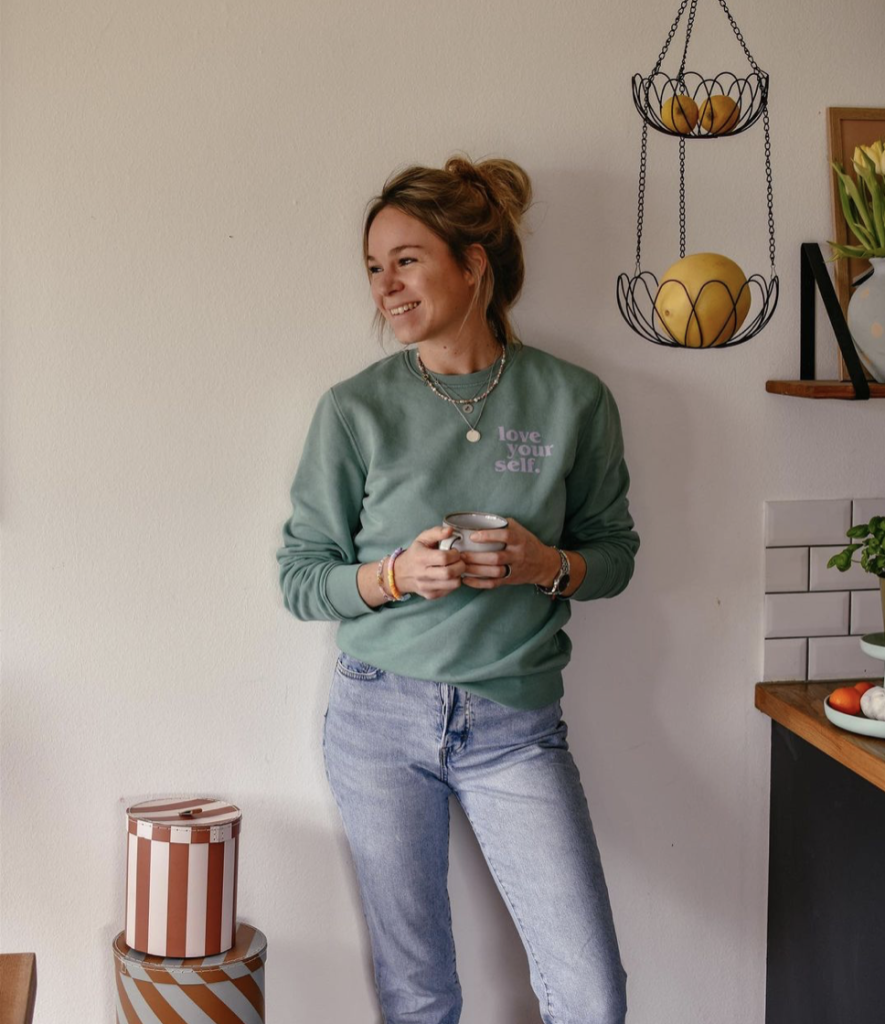 Without reels, it's no longer possible to build reach on Instagram. At least that's the thesis that has been put forward again and again in recent months. But if you start trying out the short videos on your own account, you'll quickly realize that not every video goes viral and gets you thousands of followers…or maybe it does?
One person can definitely prove this thesis and that is Julia, who is known on Instagram as @mrs_ermerson. Her reels regularly go viral – some of them have up to 29 million views. She mainly shares impressions from her house, where she lives with her husband, 3 daughters and dog. Within a very short time, her videos convey a feeling of warmth that you would otherwise only know from your own parents' house. In particular, she shows the children's rooms, which are equipped with great attention to detail and an enormous amount of space for romping.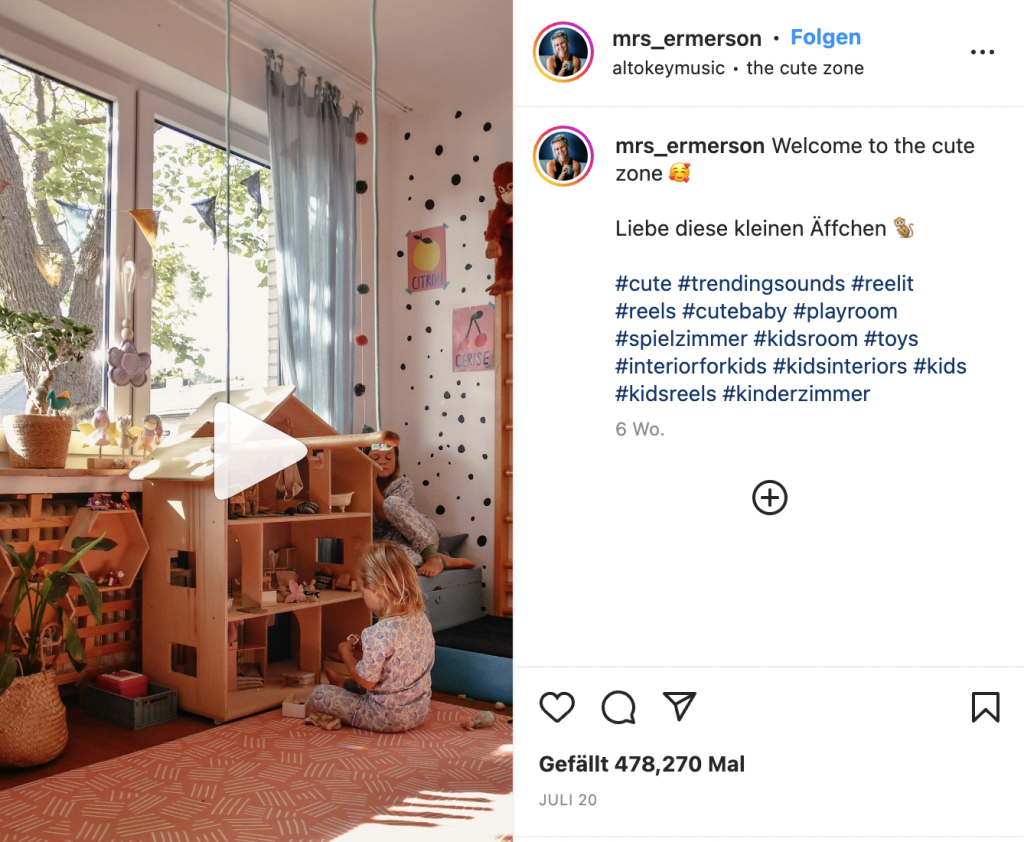 But what is actually the secret behind the creator's success and how does she see the chances of reels in influencer marketing in the future? That's exactly what we asked her.
What is the sense of achievement for Reels?
"I think viewers like the 'vibe' of my videos. It's always positive. The choice of music is crucial. When I shoot a video and look at the finished material, I usually have a song in my head that is like a kind of soundtrack to the situation I shot.

Videos must be short and simple, because the attention span of users decreases with increasing content volume. Very few people take the time to watch videos for more than 10-15 seconds. I also rarely use effects or elaborate edits. The content is entertaining, but easy and quick to consume."

Julia, @mrs_ermerson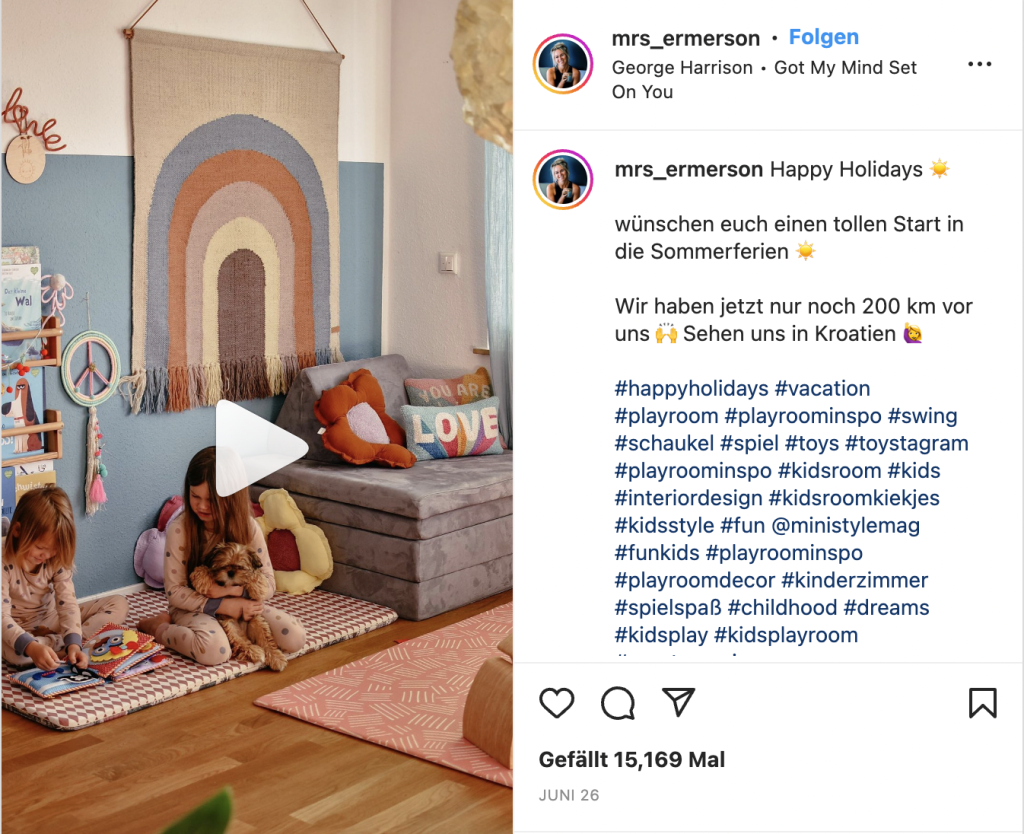 So we can learn from @mrs_ermerson that sometimes less is more when it comes to reels. Authentic insights that entertain and inspire are exactly what users want to see on the platform. Most importantly, reels should be as short as possible, because the next video is just a "scroll" away and you need to engage users quickly.
Why are short videos so relevant in marketing?
"Videos are entertaining and so much more descriptive. If I'm interested in a particular topic, I'd much rather watch tutorials than read instructions. Content, whether it's baking, decorating or styling, can be creatively illustrated.

Short video content is, above all, entertaining. As a user, I can quickly immerse myself in a 'mood', take away a feeling, without having to read a long caption or watch a long opening credit."

Julia, @mrs_ermerson
It is precisely these advantages that brands should take advantage of and communicate their content in such a way that it reaches the consumer quickly and comprehensibly.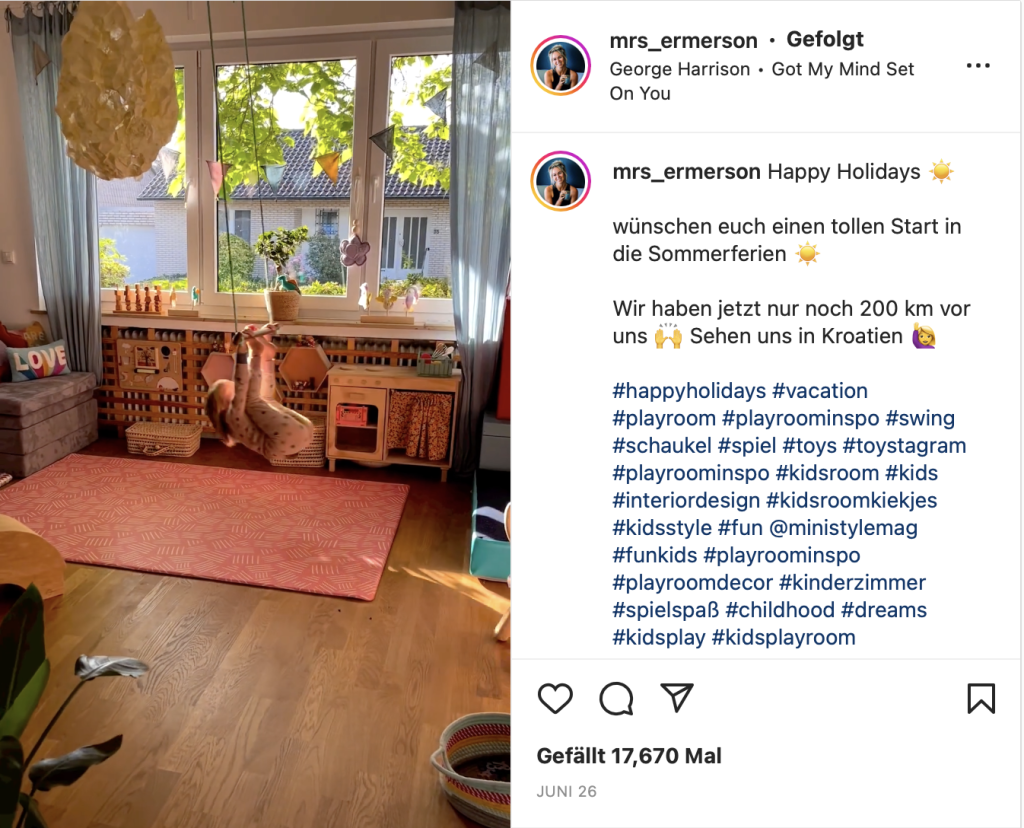 Reels in Influencer Marketing
"Short video content is the future for implementing collaborations in influencer marketing. If you want to get on users' home pages as a company, you have to keep up with the trends or, at best, be one step ahead. I also find that video content is a creative way to convey a brand message in a more targeted way."

Julia, @mrs_ermerson
This is exactly how companies and brands can use creators in the context of influencer marketing to communicate important messages together with them via a short video strategy. Nowadays, this is the only way to reach broad masses and actually motivate them to take action.
Conclusion
The fact that reels and short clips in general are the success to reach on social media has long been an open secret. Not every video will go viral, but with Julia's (@mrs.ermerson) tips and our tips for reels, you're getting pretty close to the first successes!