Pinterest marketing for your business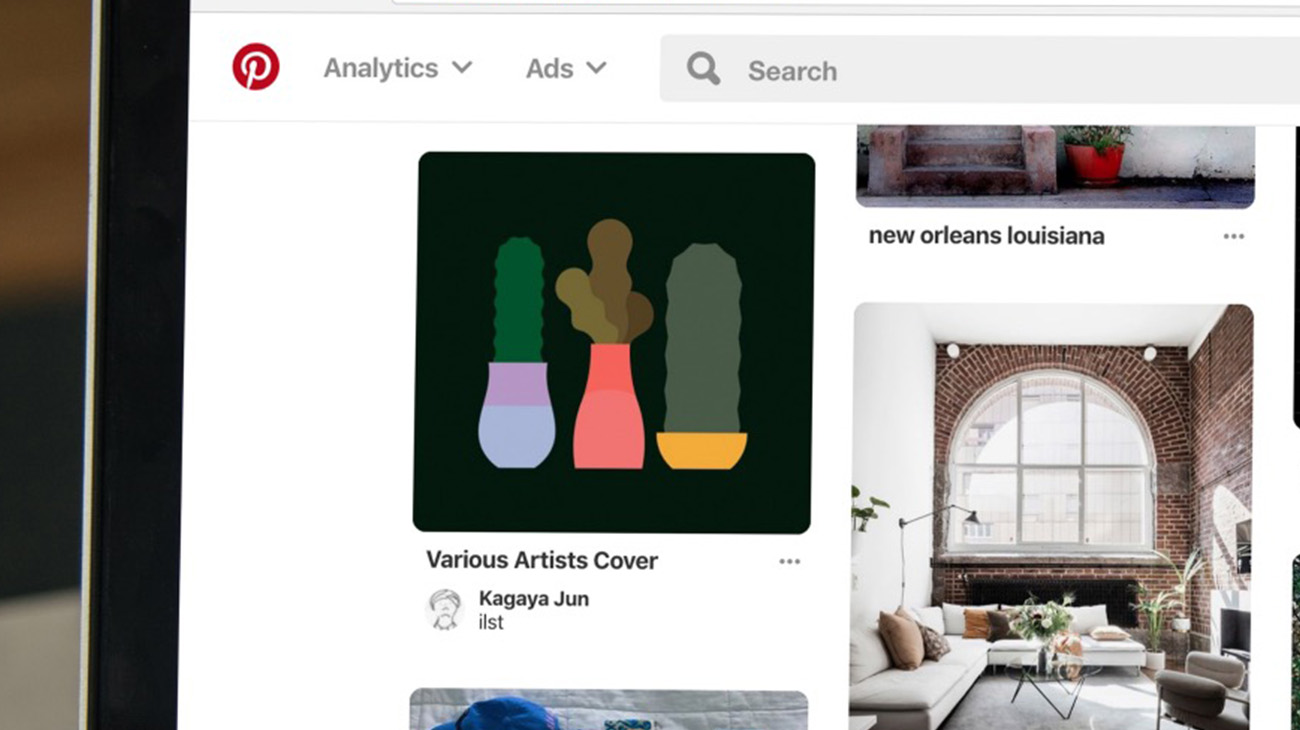 Instagram & TikTok? Marketing on Pinterest is also successful – here's how!
If you've landed here, you're probably thinking about whether Pinterest could be something for your business. At this point we would like to give you a small overview and list the essential basics and marketing advantages of Pinterest for your business.
First things first: Pinterest can best be described as an online pinboard, which also contains features of a social network. On the platform, you can find photos and graphics that are placed on the online pinboards of over 487 million users worldwide. These pinboards can be commented on by other users, shared and saved (repinned) on your own pinboard. However, Pinterest is also a kind of visual search engine. While Google is mainly used to find other websites through search queries, Pinterest follows a different principle. Here, it's more about finding appealing images for inspiration that you can use for your own ideas and projects. Since the platform was founded in 2010, it has enjoyed increasing popularity with each passing year.

What added value does Pinterest offer compared to social media platforms?
While social media platforms such as Facebook, Instagram, TikTok, etc. focus on the entertainment aspect and networking, Pinterest, in addition to the visual focus of a search engine, also opens up the dimension that users can exchange information about their hobbies, interests, and how-to's (DIY). To this end, registered users create a pinboard that can be viewed by other users. With the help of machine vision and machine learning, Pinterest is very good at finding relevant content for its users and presenting it according to their interests. The system accesses over 175 billion images stored with data and thus offers its users a wealth of relevant results. The focus is less on a person or influencer and more on a topic, a hobby or a common interest. This means that basically every user can gain relevance beyond their own pins by "repinning" "other people's" content.

What can I achieve through Pinterest marketing?
As with social media marketing, visually appealing images and texts with added value play a paramount role for Pinterest marketing. For companies in the service sector and for those that sell products, Pinterest is particularly well suited to attract attention, for example, through high-quality images. Many users are interested in DIYs and are looking for creative ideas and inspiration on the Pinterest website or app.
If your company has good content of your products or services, Pinterest offers a wonderful interface to bring together the needs of the users and the offers or products of your company and your website. This makes it possible to generate more traffic to your company website and attract more users to your company and brand. For this, you should develop a content strategy and a content plan that you implement via your Pinterest business account or your company's Pinterest profile. Present your target group with creative and interesting ideas and impressions of how they can use your product or service to create added value for themselves and perhaps even enrich their lives.
Through this form of online marketing, you can increase the awareness of your company and draw the attention of users to your online store through your pins and, in the best case, generate more sales. Unlike ads or paid partnerships on social media platforms, your pinboards can generate an organic reach and regular pins with good photos and a great pin description can create a consistency that retains its relevance over time. As a rule, timeliness plays a hugely important role in content marketing. Only new posts are displayed to users on Instagram and the like. With a Pinterest marketing strategy and the published content, older content posts also have relevance. Unlike on social networks, these are also listed among the results in the search.


Who are the users of Pinterest?
If a company knows its target group very well, it can reach a large number of these users through Pinterest marketing. In Germany, around 15 million people use Pinterest every day. Of these, 10 million users are female. The platform itself states that 72% of all users worldwide are female and 23% male. In Austria and Switzerland, 1 million people use Pinterest every day. The age breakdown is as follows: The largest share of active Pinterest users is between 25 and 34 years old. This corresponds to a total share of all users of approximately 40%. The share of users older than 45 years amounts to 23%. The target group of mothers is particularly well represented in Germany and accounts for about one third of German Pinterest users. Millennials make up another third of German users. Similar to social media platforms, Pinterest is also preferably accessed by its users via mobile devices such as smartphones and tablets (74% of page views are mobile user experiences). Particularly interesting for Pinterest marketing is the fact that interaction with organic shopping pins on the platform has made a huge leap upwards in recent years. For the marketing strategy of e-commerce companies, this growth is a factor that should not be underestimated.


What to look for in a Pinterest marketing strategy?
A Pinterest marketing strategy is no different than a social media marketing strategy. It requires time, creative ideas and regular posts/pins. It is important to define your own target group and be clear about what interests and needs this group of people has.
At the beginning, think carefully about the goals you want to achieve with your Pinterest campaign and the resources you have available. You should also think about the budget so that you have a defined framework for your strategy and campaign. The next step is to think about the content. Think about what your pins should look like so that they attract as much attention as possible from your target group. Try not to bend in the process. When it comes to Pinterest marketing, you should also present your company authentically. If you decide to forgo the support of a Pinterest marketing agency and take your Pinterest marketing into your own hands, think carefully about which tools can support you in implementing your strategy. Don't let your first pins put you off. All beginnings are hard and practice makes perfect. In marketing, it's not uncommon to have to adjust your strategy and correct mistakes from time to time. The important thing here is to take the first step and get going. How companies use Pinterest properly has been shown many times in the past. It is therefore enormously important for a company to establish its own digital presence on the web as broadly as possible in order to reach a large number of people and draw attention to itself.