Latest Read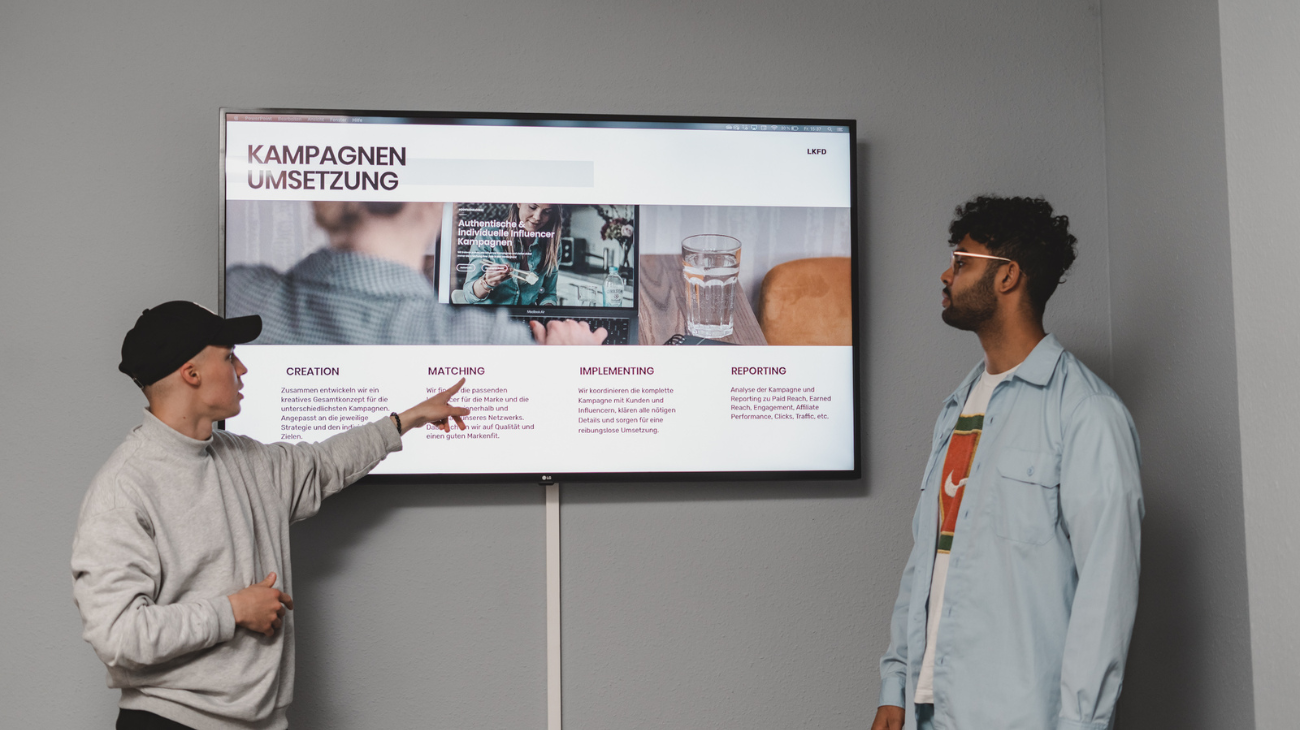 Newsticker
SEO feature for LinkedIn articles
LinkedIn articles and newsletters can also be SEO optimized from now on.
More
Instagram now shows creators when their content is "shadowbanned" and for what reason. This means that the platform will no longer display the creator's content to the community for a certain period of time, without actually blocking it.
More
More inspiration through category labels
On business accounts that have a label on their profile (e.g. artist, creator, etc.), users can now click on it to discover more creators with the same category label.
More
Videos can now also be watched in full-screen mode by rotating the phone. This is especially useful for watching longer content.
More
Posted Drafts – Time saving for Creators
TikTok makes it possible for videos that have just been posted to be saved directly as a draft, so that if changes need to be made, the video does not have to be produced again. These drafts are accessible for 3 days.
More
LinkedIn introduces new analytics for Creators
Among other things, you can document follower growth, view the best performing posts, and get even more audience analysis.
More
"Not interested" on Instagram
The function that we already know from TikTok is now also available on Instagram. Here, content can now also be marked as "not interested", so that fewer such posts will be displayed in the future.
More
Carousel post to make a reel
Users now have the options to transform carousel posts into reels.
More
LinkedIn now has its own emojis
After these otherwise always had to be typed in manually, the platform now launches its own set that can be used within postings.
More
Share Reels from Third Party Apps
More and more apps are working to allow you to share content via reels on Instagram as well.
More
TikTok launches updated Marketing Partner Plattform
This is designed to help brands implement their campaigns by providing them with direct assistance.
More
New! Social Channels on Instagram
In the future, it will be possible to create your own channel on certain topics using story stickers, which other users can then join.
More
Creators on TikTok can now edit the automatically generated captions for their videos after the fact.
More
Instagram shows how many times reels have been shared
So creators, but also other users, can now see how often their videos are forwarded.
More
Scheduling posts on LinkedIn
Now that Instagram has taken the lead in the desktop version, LinkedIn is following suit: Finally, posts can be pre-scheduled on the platform.
More
Automatic subtitles for videos
LinkedIn also continues to work on automation steps and launches automatic subtitles for videos. So far, however, these can only be used in English.
More
In order for their own reel to be found even better and generate reach, creators can now provide them with so-called "topic tags", which other users can then search for. Examples are "Makeup" or "Styles and Trends".
More
LinkedIn launches new Ad formats
"Click to message", "Conversation starter" and "Promoted employee posts" are the new formats that will be available on the platform in the future.
More
Reels should be able to be pinned in the Reels tab in the future and not only on the "actual" profile.
More
Not only for posts, but in the future also for reels, the hiding of likes should be possible.
More
TikTok launches new analytical tool
This should make it possible to identify one's own target group even better in the future. Factors such as age, gender and country are taken into account.
More
Shopping Feature for Shorts
Following TikTok's announcement of in-app shopping in the U.S., YouTube Shorts is now following suit to stay competitive.
More
Users should be able to choose between the square feed and a 4:5 format on their profile in the future.
More
YouTube Shorts can now contain sounds that are up to 1 minute long.
More
When you open the app, you can now choose between the "Friends", "Following" and "For you" home pages.
More
The new shopping feature is already being tested on TikTok in the USA. TikTok sees it as a potential competitor to Amazon.
More
Message button for Feed Postings
On Instagram, it is now possible to add a feature under posts in the feed that allows users to contact them directly.
More
Pinterest launches "Shuffles"
This is an app that allows users to create collages and post them to Pinterest.
More
"Smart Replies" on YouTube
It should be possible to reply directly to the comments under one's own video with suggested answers. Phrases such as "Thank you!" or "Same here" will be suggested.
More
Instagram is working on Stories that only followers you follow can see.
More
Users will soon be able to ask questions on other Instagram profiles.
More
New Instagram Feature: Glimpse
The function of Glimpse is very reminiscent of BeReal. Users are supposed to take pictures with the front and back cameras at the same time for the story, which they can then share with their friends. However, they can only see the pictures when they use Glimpse themselves.
More
Finally here: in-app scheduling tool for Instagram
From now on, posts, reels, and carousel posts can be scheduled directly through the app. These are saved for 75 days.
More
Reels Achievements for Creators
To encourage users of the app to post even more reels, so-called "Achievements" can now be unlocked. These include, for example, "The first video in collaboration with another creator" or "Posted more than one reel in the week".
More
Music for Instagram Postings
In the future, it is supposed be possible to add music not only to stories, but also to posts.
More
Animated Avatar Sticker Reactions
Instagram is working on new reactions for Instagram Story.
More
Monetary gifts via Instagram Reels
Users can now send "gifts" to their favorite Creatorn via the reels. These are individual amounts of money. Social media users are already familiar with this feature from TikTok.
More
Sharing your location on TikTok
From now on, European users of the app can tag their videos with a location and thus share the location with others.
More
Linking products in Reels
From now on, it is possible to use reels to drive users to your website or to view products directly on Instagram.
More
New Voice Overs on TikTok
The platform features new "text to speech" voices that users can use for their videos.
More
Identity Check on Instagram
In order to prove to the platform that one's profile is a real person, one can now verify one's account through selfies.
More
Instagram continues to push reels
Users will receive regular push notifications about other users' new reels from now on.
More
"Branded Missions" on TikTok
This appears to be a feature where users can produce videos on a specific brand topic. If their videos meet the guidelines, they can gain views.
More
Automated carousel postings?
LinkedIn is working on converting posts with multiple images to a carousel post.
More
In the app, it is now possible to start a conversation with multiple users at the same time.
More
Blocking multiple accounts
When users block accounts, they can directly block that user's future accounts as well.
More
Instagram introduces a feature that reminds users via pop up to stay nice and not send hate comments or messages.
More
Instagram is working on a feature that finds similar sounds to popular sounds.
More
Shoppable Links for more Creators
YouTube is rolling out the feature to more creators on the platform.
More
TikTok Pulse to be launched as a source of revenue
TikTok gives Creators more ways to earn money when using Pulse Ads. Creators must have at least 100k followers, post 5 videos in 30 days and be at least 18 years old.
More
Edit captions after uploading
On TikTok it now seems to be possible to edit added captions even after uploading.
More
Schedule Instagram posts in the app!
Good news for all social media managers: From now on, the app can be used directly for scheduling Instagram posts. Previously, this was only possible via the Creator Studio.
More
Branded Content Tag for Reels
From now on, all users can mark their reels this way.
More
The platform is reportedly working on its own podcast app.
More
Live videos only allowed for 18 and over
The minimum age for going live on TikTok will be raised from 16 up to 18.
More
Music on your own profile
On Instagram, it is supposed be possible soon to accompany one's own profile with selected music. This would allow users to show themselves even more personally.
More
Search popular reels on Instagram
Reels that are currently popular with the community can now be searched through the Discover page.
More
Twitter released new emojis and stickers in 3D style.
More
Blogposts
Filter
Category
Important social media news directly to your smartphone
1

Save our number in your contacts

(z.B. unter "Lookfamed News")

+49 15159078083

2

Send us a message via WhatsApp with "Start"

To unsubscribe, send us a message via WhatsApp with "Stop".